The Three Musketeers 2011 WonderCon Panel With Logan Lerman and Luke Evans
WonderCon 2011: The New Three Musketeers Are the "James Bonds of Their Time"
The Three Musketeers was short two Musketeers at WonderCon today. Logan Lerman who plays the young rebel D'Artagnan came out to support the project along with Luke Evans who costars as Aramis. But Matthew Macfadyen (Athos) and Ray Stevenson (Porthos) were absent, as was Orlando Bloom, Milla Jovovich, and Christoph Waltz. Not to worry though, because the panel still helped shed light on the upcoming retelling of the classic story. Read below to get the dish on what to expect.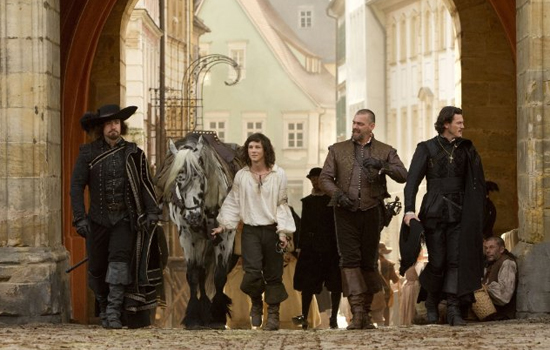 The panel started with the same teaser we saw just a couple weeks ago; however, this time I was definitely more on board with the film. Watching it on a big screen with surround sound made it much more exciting.
Lerman talked extensively about his training for the film, particularly the fencing he had to learn. In the big, intricate fights, he had to perform as many as 150 moves in just one scene! That's a lot to remember, but it was dangerous too. "Every time the swords hit, there were sparks!" he said. Even though the actors did their own fight scenes, no one got seriously injured. Evans noted that there were a few sword cuts. He quipped: "You want us to say there were fatalities, don't you?"
Lerman talked a bit about his costars who weren't in attendance. He describes Jovovich's character in the film as an "asskicking m'lady" who terrifies the Musketeers, and joked that Waltz "brought his Oscar every day" to set."
While the Musketeers have been portrayed in film before, both of the stars promised that this new version will bring its own slant to the story. "We're looking at it as the untold chapter of the story," said Lerman. "Make them the James Bond, Navy SEALs of their time." Evans suggested that there's always room for another film version."They're good stories," he said. "They last forever, and they deserve a place in everyone's generation. This one is the same."
As for their look in the film, apparently it comes down to one thing: hair. "I had a lot of hair in this one, it's true," laughed Lerman. "Sexy hair," added Evans.