Tim Burton to Produce Abraham Lincoln Vampire Slayer, Plus Five New Ideas For Classics With Monster Themes
Classic Novel Meets Classic Beast: Five New Ideas
First there was Pride and Prejudice and Zombies, the Seth Grahame-Smith novel that's currently being adapted into a film starring Natalie Portman. Then there was Sense and Sensibility and Sea Monsters, penned by Ben H. Winters, but no word of a movie version just yet. However, Tim Burton has his eye on the latest in the monstrous-twist-on-an-old-favorite genre, with plans to turn Grahame-Smith's Abraham Lincoln: Vampire Hunter, into a major motion picture. Got all that?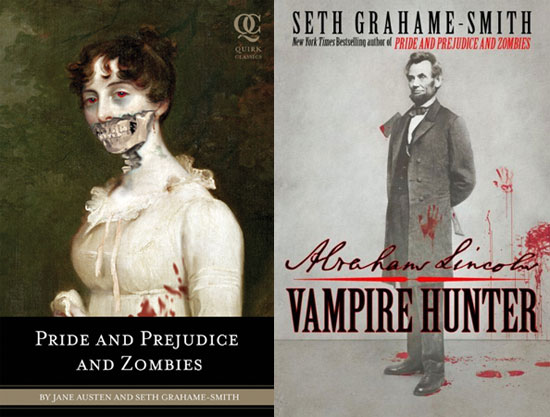 A little research will show you that Grahme-Smith and Winters hardly have the monopoly on the market. Classics like Anna Karenina, Emma, and even Sherlock Holmes have been inundated with the likes of zombies and beyond. While I thought the Pride and Prejudice adaptation was clever, and the making of another vampire movie is more than understandable, I'm still not sold on the whole trend. However, it doesn't look like it's going away, and if you can't beat 'em, join 'em. Check out a few of my own ideas on how your most beloved stories could be tweaked with the help of a few creepy creatures:
Romeo, Juliet, and Robots: The centuries-long feud between the House of Montague and House of Capulet is only worsened by Romeo's discovery that Juliet's entire family are actually androids plotting to take down Verona. Romeo and Juliet still fall in love, but take their own lives upon the realization that Juliet's database isn't capable of processing the glitch (aka, feelings) in her system.
Gatsby vs. Godzilla: The gap between East Egg and West Egg just got a whole lot bigger. Will Gatsby find the time to throw his lavish parties, and save Daisy from Japan's most threatening monster?
The Adventures of Huckleberry's Finns: Floating down the Mississippi is a whole lot easier (and more complicated!) when you're half boy, half shark.
Two more ideas if you
.
Great Alien Expectations: Pip can't figure out why Estella won't let him win her heart, and takes off to London to forget about her. When he returns, she's been turned into alien, forcing Pip to make a decision about whether he'll continue to pursue life as a gentleman or let Estella take him away on her UFO.
The Werewolf in the Rye: It's a coming-of-age tale of Holden Caulfield, only this time his adventures away from boarding school get pretty — wait for it — hairy.