In Time Comic-Con Panel
Justin Timberlake and Amanda Seyfried Talk About Their Sci-Fi Thriller at Comic-Con
Justin Timberlake took some time out of his Friends With Benefits promotional schedule to talk about another of his upcoming projects: In Time, a sci-fi action flick (previously known as Im.mortal and Now). He plays a man in a future where everyone stops aging at 25, and dies the next year unless they can steal or buy more time. When a mysterious man gives him a ton of his own years, he becomes the target of both an authority (Cillian Murphy) and a bad guy who wants his time (Alex Pettyfer).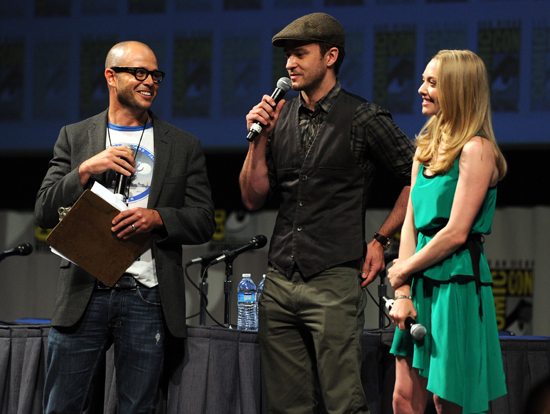 I initially had doubts about the film, but I'm on board after getting a long sneak peek at footage, which makes more sense of the whole "time as currency" concept. Plus, I'm really into the cast, which also features Amanda Seyfried and TV stars Matthew Bomer and Vincent Kartheiser. Timberlake and Seyfried were on hand for the film, and they talked a little bit about why they chose the movie and what shooting was like.
When asked why he took the role, Timberlake said that he was sold on the concept because he had been a fan of action movies as a kid. More importantly, he was also a huge fan of Gattaca and The Truman Show, which are both from the mind of In Time's writer and director Andrew Niccol.
Referencing the profusion of superhero movies at Comic-Con, Timberlake admitted that he'd be "scared sh*tless" if he were "putting on the tights of a character that already exists," which is why he was more attracted to the this film and the idea of playing an ordinary guy who's just trying to stay alive.
Seyfried assured the crowd that "the action never stops" in this movie, and that she was often running for her life in heels. She also admitted that she and Timberlake loved shooting the guns in character and that they would go shooting after hours.
Moderator Damon Lindelof brought up the fact that Olivia Wilde plays Timberlake's mother in the film, and then he pointed out the irony of Timberlake's infamous SNL "Motherlover" skit. Timberlake got the last laugh, though, when he corrected Lindelof that "Motherlover" is about "sexing up someone else's mother."