Tinker, Tailor, Soldier, Spy Movie Poster
Check Out the Cool Poster For Tinker, Tailor, Soldier, Spy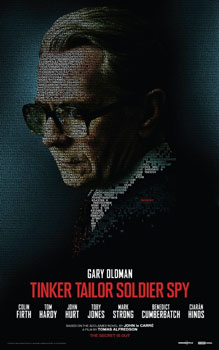 Tinker, Tailor, Soldier, Spy is a thriller that's coming at us this November, and the poster for it has me intrigued. At first glance, it looks like a photo of Gary Oldman, but upon closer inspection, we can see that his likeness is made up of a series of numbers. The film follows a retried British Intelligence officer who returns to work to help to track down a Russian mole in the 70s, and the hunt intensifies as Oldman surveys the possible suspects.
The trailer for the film is chock-full of stellar actors including Colin Firth and Tom Hardy, but if there's one thing to garner from the poster, it's that this movie belongs to Oldman.
We've got a much bigger version for you to scrutinize when you
.