Tom Hanks Interview For Electric City
Tom Hanks Says His New Animated Series Electric City Is "Deadly Serious"
Tom Hanks has his hands in a new and different project from what we're used to seeing from him: an animated web series called Electric City that premieres on Yahoo today. Hanks wrote the series and voices the main character, Cleveland Carr, an antihero and former cop who spends his time in the futuristic Electric City defending the city's innocents from its various evils. Hanks hopped on the phone to chat with a few reporters about the web show, his inspiration, and his voice-acting "costars" (including Ginnifer Goodwin and Paul Scheer).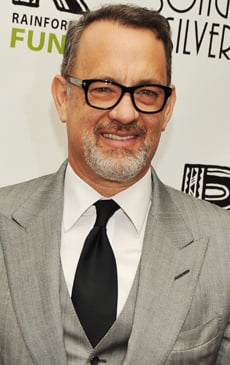 What was your inspiration for the show?
Tom Hanks: I wanted to do something that was — for the lack of a better phrase — somehow deadly serious, meaning that it dealt in serious themes with a serious course of action, because the vast majority of stuff that you see on the Internet is kind of like one-off, and it's almost always humorous. I didn't want to do a spoof. What I wanted to do was somehow take a form that had a visual zeitgeist to it that as soon as you look at it you realize that it takes up a certain place in our pop culture knowledge, if you will.
You're not necessarily known for dark projects, so why did you want to break the mold with something like this?
TH: Well, I'm an actor in this, so I understand the countenance that I bring there, but the company that I have, Playtone, is in a constant search to produce things that just sort of delight us for no reason whatsoever other than being delighted by it. And as a producer, I get to go off and develop things that are somehow this close to the vest because they're part of my interests. But there are other things that I just think are fascinating because no one's really done it before.
Read what else Hanks had to say about Electric City and how the other voice actors were cast after the jump.
Did you handpick the other voice actors yourself?
TH: When it comes down to it, we [producers Bo Stevenson and Josh Feldman] pulled from essentially friends of Playtone, people that we worked with. We were looking for specific kind of voices. Holland Taylor, for example, she is the best. I've known Holland Taylor since we did Bosom Buddies and I know that she's perfect for it, so we did do specific vocal casting in order to bring people in, but many of the parts we've just done because we know them and said, "Hey, want to come in and do this for us?" And my voicing, Cleveland Carr, was literally the same thing. I work cheap — as a matter of fact, for free in this case, so that helped the budget. Jeanne Tripplehorn, for example, her voice is like butter and so I said "please." We begged her to come in and do it and she didn't need to be begged. She said, "Of course I'll come in and do it."
How did this project get off the ground, and why did it go to Yahoo?
TH: This is a fascinating question because there was absolutely no rhyme or reason to how any of this happens. The reason that we ended up going to Yahoo was, quite frankly, because Yahoo said, "Let's do it." We had the thing for 100 million years. I wrote the first story in 2003 on a portable manual typewriter, by the way. And we were always just building it for the sake of the story because we loved the story and it went through many incarnations with the idea — none of them followed — none of them even so much as dangled on a fish hook as far as what the outlet would be in order to bring some brand of audience. When the Internet became what it was, somewhere between 2003 and now, and they were entities like Yahoo and some others that were willing to pay for content, it was just a matter of finding somebody who was willing to pay us for content.