The Tomorrow People TV Show Info
Why The Tomorrow People's Robbie Amell Doesn't Fight in Real Life Anymore
Robbie Amell, Mark Pellegrino, and the rest of the cast of The CW's upcoming sci-fi series The Tomorrow People stopped by the Summer TCA for a chat with reporters this week. Amell (yes, cousin of Arrow's Stephen) discussed how his hobbies have shifted now that his face is his moneymaker, as Aaron Yoo cracked out a few references to '90s videos games and Pellegrino explained why he loves playing a good villain.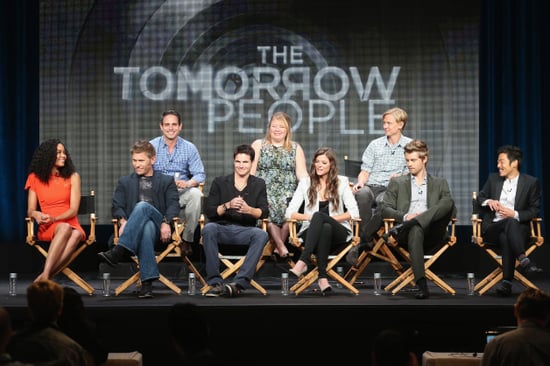 Fighting plays a big role in the series, and Yoo joked, "They just let us beat each other up and let out our personal aggressions." He hinted at a "sick" fight that Amell and Luke Mitchell, who play rivals, have in the second episode. Former Muay Thai fighter Amell admitted that fighting just isn't what it used to be for him: "If I get punched in the face I'm in a lot of trouble . . . you can get really swollen and screw up production."
The Tomorrow People is a revival of the 1973 sci-fi series where the main characters, aka the Tomorrow People, have powers like telekinesis, which producer Phil Klemmer described as "discreet powers." The least discreet? Probably the telekinetic shove, which Yoo said took quite a bit of time to master and in the end admitted that Street Fighter really had it right: "It's really hard to get anything better than 'Hadouken!'"
Audiences might recognize Pellegrino as Jacob from Lost, and here he's playing someone just as creepy and just as polarizing. As the government agent in charge of rounding up the Tomorrow People for research, he's mysterious, immoral, and ominous all at once: "I'm protecting the human race, and you gotta do dirty things sometimes to protect millions of people," said Pellegrino. "I consider myself the hero of the story right now . . . All the characters I play are justified."