Top of the Lake Review
4 Reasons You Should Be Watching Top of the Lake
Jane Campion's miniseries Top of the Lake is currently airing on the Sundance Channel, and I'm hooked. Mad Men's Elisabeth Moss takes the reins in the seven-part series as Robin, a New Zealand detective investigating a young girl's disappearance. Tui, the missing 12-year-old girl, is pregnant, and though there are a myriad of questionable men in her life (including Beauty and the Beast's Jay Ryan as her half brother), the baby's paternity is unknown. It could be a straightforward procedural, but Campion (The Piano, Bright Star) weaves a strange and unique mystery. Here's my case for why Top of the Lake should be at the top of your DVR.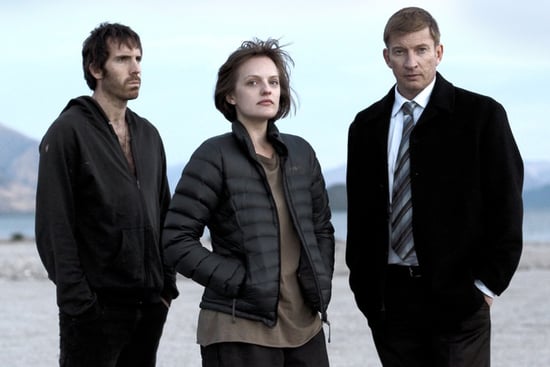 The cast is fantastic. Sure, Peggy is a main character on Mad Men, but she's constantly walking in Don Draper's shadow. In Top of the Lake, Moss dons a convincing Kiwi accent as Robin and holds her own as the detective with a past. Holly Hunter also gives a fascinating performance as GJ, the silver-haired leader of a bizarre women's retreat that has taken up residence by the lake.
The scenery is captivating. The show is set in New Zealand, and the landscape is breathtaking. Robin jogs through lush green forests, the lake mentioned in the title is an expansive and dreary yet majestic body of water in the middle of sloping mountains, and its rocky beaches are inhabited by some strange characters.
The tone is ominous and intriguing. As a fan of The Killing, it struck me that not only is Top of the Lake similar in plot, but also in its dark tone. It's just as edgy, but instead of being depressing, it's bizarre. There's rarely sunshine, and there's a creepy overtone to nearly every bit of dialogue.
The pace is perfect. The miniseries originally ran in full at the Sundance Film Festival, but it works really well broken up in parts. Each episode ends on a cliffhanger, and Campion reveals just enough about each character to keep you on your toes.
Have you been watching Top of the Lake?