Total Recall Movie Review
Total Recall: Almost a Total Bust
Colin Farrell takes on an iconic role (originated by Arnold Schwarzenegger) in the remake of the classic thriller Total Recall. He's a capable choice for the befuddled Douglas Quaid, but the movie itself emphasizes the wrong elements and doesn't live up to its source material. Set at the end of the 21st century, only two countries remain: The United Federation of Britain, inhabited by the upper class, and The Colony, whose less-fortunate residents live in squalor. Like many in The Colony, everyman Douglas works on an assembly line, but he's not content with his life of drudgery. He seeks out Rekall, a lounge with technology that can implant freestanding realistic memories, like vacations. The needle, set to implant a spy adventure, is barely in his arm when his session is interrupted by a squad of robotic police, which, much to his own shock, he swiftly and instinctively annihilates.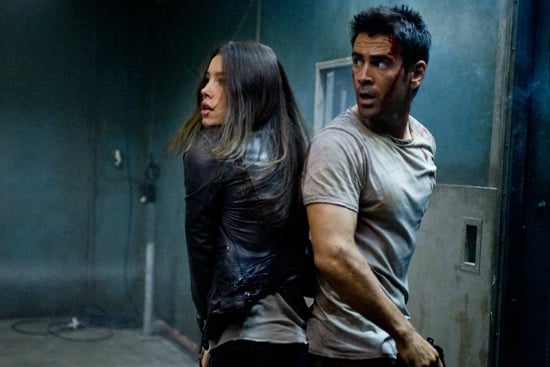 Once Douglas escapes, he returns home to find his once-loving wife, Lori (Kate Beckinsale), isn't exactly happy to see him. She informs him that their seven-year marriage is just a false memory the government has implanted in him. Then she tries to kill him. Watching the dynamic shift between the two as Lori's demeanor changes and Douglas struggles to determine which memories are real is one of the few entertaining scenes in the movie. Unfortunately,Total Recall surrenders its main hook (is Douglas still in his dream-state?) too soon and veers into generic action territory as Douglas uncovers that his identity might have something to do with a massive political revolution. To find out what else I thought, just keep reading.
Like the original, this movie is jam-packed with combat, including some mind-bending action sequences. But the fun of the 1990 rendition is that doesn't take itself seriously. Though both films have a similar political subplot, this incarnation works overtime to incorporate the poor's rise against the UFB's oppressive government, led by the greedy Cohaagen (Bryan Cranston). Initially it feels like it's striving toward making a statement but it falls flat, never fully exploring the characters it introduces. Even motivations from some of the main characters are absent; Lori's sharp vendetta against Douglas is never fully explained.
While the movie feels overcrowded with one-dimensional characters, the world they live in is richly explored. The sweeping shots of The Colony, with its architecturally impossible structures, hovering cars, dank alleys, and extensive red-light district full of debauchery (and yes, the infamous anatomically gifted hooker) are ravishing.
Despite their lack of depth, Total Recall's characters do literally kick ass. As per usual, Ferrell is statuesque, and his fight scenes look practically effortless. Beckinsale, who's worked with director Len Wiseman on the Underworld series, has that malevolent stare down pat and can throw down with the best of them. Farrell's other love interest, a member of the rebel force played by the able-bodied Jessica Biel, really isn't given much material, but she does hold her own against an army of robotic soldiers.
Total Recall's abounding action sequences are banging, but they're not enough to overlook the film's swiftly stacking plot holes and confusing story. New technology isn't enough of a reason to update an old movie, especially when the original still holds up.
Photo courtesy of Columbia Pictures