The Tourist and How Do You Know Now Available on DVD
What to Rent: New DVDs This Week
There are lots of A-list faces on this week's new DVD releases, but if you're looking for something a little more kid-friendly, Yogi Bear is also available.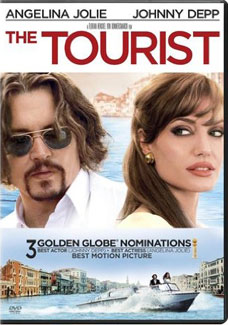 Angelina Jolie and Johnny Depp team up for this spy caper about a woman (Jolie) who seduces an innocent tourist (Depp) while on the run from authorities looking for her criminal ex-boyfriend in Venice. Johnny Depp takes a break from his typical fare to play a goofy average Joe, while Jolie provides pure eye candy as usual, thanks in part to her wardrobe. Though it's fun to watch these two gorgeous actors play off each other, ultimately they don't generate much heat to keep the weak plot afloat. DVD extras include outtakes, featurettes, and director's commentary.
20%
Reese Witherspoon stars as Lisa, a neurotic softball player who feels lost after being cut from the National team for being too old. As she struggles to figure out what to do with her life, she crosses paths with George (Paul Rudd), who is going through a life crisis of his own. Though she's already involved with a lovable but dim-witted baseball player named Matty (Owen Wilson), Lisa begins to wonder which guy — if either — is the right one for her. I thought the film was one of the best romantic comedies of 2010, thanks to enchanting performances from the three leads, along with Jack Nicholson. DVD bonus features include delete scenes, a blooper reel, and featurettes.
30%