Toy Story 3 Movie Review 2010-06-18 04:30:55
Toy Story 3: Oh, Oh, It's Magic
I was a much younger girl when the original Toy Story movie came out — I was, I dare say, the target audience's age. Though I feared that I wouldn't enjoy Toy Story 3 with the same fervency as the kid I once was, I have to admit that I was bested by a group of animated toys.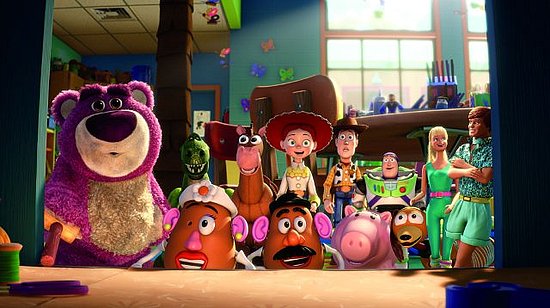 The third film pulls off a grand success: it adapts the original characters and story into a believable arc about growing up, saying goodbye to your youth, and moving on — without sacrificing the lightness of a family film.
To see what I loved about Toy Story 3, just read more.
Woody, Buzz Lightyear, and most of the gang of playthings are back, but they're in transition: Andy is about to go off to college and leave them behind. The toys have been feeling low for some time, as their beloved owner stopped playing with them years ago. The group disagrees over what their best shot at happiness is: the local daycare full of kids, or the attic that could promise a reunion with Andy someday down the road. They feel the sting of rejection and uncertainty about their future, and worse, they don't understand why.
These are themes that may sail over the heads of younger viewers, but the maturity wasn't lost on me. There's more that's meant to speak to the older audience (including a handful of brilliant jokes), like the nostalgia aroused by the vintage toys and the stressful intensity of the final sequence.
But aside from the movie's ability to connect with its adult audience, Toy Story 3's triumph lies in its quality: the quality of its jokes, story, and energy. It's funnier than most of this year's comedy releases and has better action than most of this year's action releases. It's the rare movie that's not just appropriate for all ages — but enjoyable for all ages.