Traffic Light Winter TCA Quotes, News, and Pics
Traffic Light Pulls Out all the Stops at the Winter TCA
Fox made sure to add some laughs to the Winter TCA, and the cast and crew of new series Traffic Light did just that. The actors, including David Denman and Liza Lapira, joined the show's producers to talk about the relationship comedy's angle, the characters, and the midseason TV shows that are bringing them some healthy competition.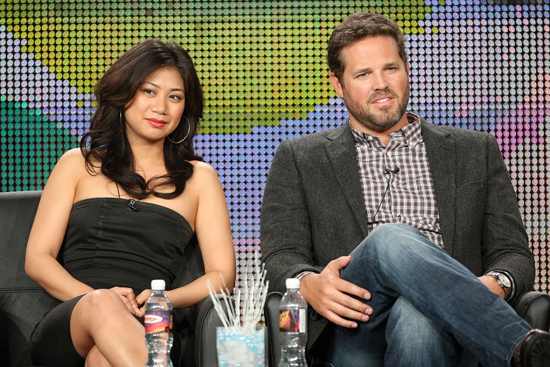 David

Denman

, best known as Roy from The Office, credited his former show for where he is now, saying that he "learned so much watching on that set from people like Steve Carell." As for his new role of Mike, the married friend in the group, Denman says he's "trying to be the best father, husband, friend, employee . . ." and the show revolves around how he and the other characters try to "carve a little time to continue those relationships."
Executive producers Bob Fisher and David Hemingson talked about the genesis of the show's concept. Adapted from an Israeli show, Hemingson said they're invested in "grounding their show in as much reality as possible." Fisher said he has watched a lot of other relationship comedies, but they were "reflecting relationships I didn't have," while the characters "seemed like people I didn't know."
Though the cast and crew conceded that they didn't know why it was such a hot time for relationship comedies (Perfect Couples and Happy Endings are also launching this midseason), Fisher said that he hasn't seen the other competing series yet, but prior to now, "so many [relationship comedies] seemed bad." The one area Traffic Light is dominating in? Height — the three male leads Denman, Nelson Franklin, and Kris Marshall are all over six foot two. "We can win at basketball," Fisher joked.
The traffic light symbolism is all over the place, including in each character's relationship status. The showrunners explained that Mike is red since he's married, Adam (Franklin) is yellow since he's slowing down and moving in with his girlfriend, and Ethan (Marshall) is green since he's single. Moreover, the producers think of the driving and traffic element as more than metaphor, saying that they realized they spend so much time talking to their friends and loved ones in their cars, and thus, growing their relationships while driving around.
Stay tuned to BuzzSugar for more from the Winter TCA all week!