Trailer for Burlesque Starring Christina Aguilera and Cher
Burlesque Trailer: Lights! Sequins! Christina! Cher!
Coyote Ugly, Glitter — the story of a shy but talented girl trying to make it big isn't exactly fresh. In Burlesque, Christina Aguilera steps into the role as Ali Rose, a hopeful dancer who's desperate to get on stage at a burlesque show run by Tess (Cher) with her cohort Sean (Stanley Tucci). After that, it's like a game of spot-the-celebrity: Cam Gigandet pops up as the resident bartender (in eyeliner?), Eric Dane plays a love interest, and Kristen Bell is barely recognizable in a brown wig as a fellow performer.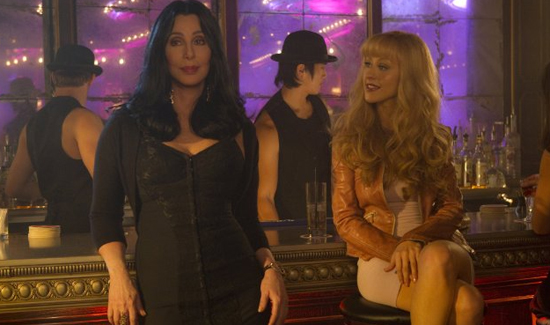 Star ensemble aside, this trailer looks incredibly campy; it's hard not to smirk just a little when you have Aguilera acting coy (yes, this same Aguilera) and Cher making comments like, "When you are putting on your makeup, you're like an artist, but instead of painting on canvas, you're painting a face." But I have to give props to Aguilera, who still delivers goosebumps whenever she takes the mic (even though I did half expect her to sing "Lady Marmalade"). Give the trailer a look, and share your thoughts when you
.