Trailer For Cowboys & Aliens Starring Daniel Craig, Olivia Wilde, and Harrison Ford
Cowboys & Aliens Trailer: Daniel Craig Fights the Law, E.T.
You pretty much know what you're going to get when a movie has an obvious title like Cowboys & Aliens, but in case there was any confusion, the film really is all about cowboys and aliens. Working off the graphic novel of the same title, Jon Favreau's new project creates a hybrid out of western and sci-fi, which feels like a strange (albeit innovative) pairing.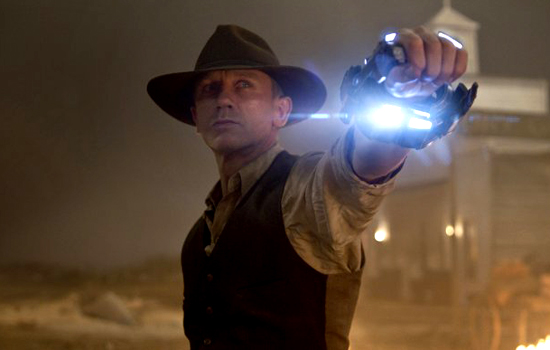 Daniel Craig, Harrison Ford, and Olivia Wilde star as early Arizona settlers who are forced to ward off extraterrestrials when a UFO invades their town. The trailer doesn't reveal too much about the characters, but there's something fishy going on with Craig and that Iron Man-like gadget he wears. While I'm a big Favreau fan, this blend of genres definitely takes some getting used to — and I've already watched the trailer six times. The film doesn't come to theaters until July 29, but give it a look and share your thoughts when you read more.