Trailer For Showtime's Shameless Starring William H. Macy and Emmy Rossum
First Look: William H. Macy, Emmy Rossum in Shameless
Back at the Summer TCA, I was treated to first looks at Showtime's new shows, including its adaptation of the British series Shameless. William H. Macy stars as Frank Gallagher, an alcoholic raising six kids on his own in Chicago.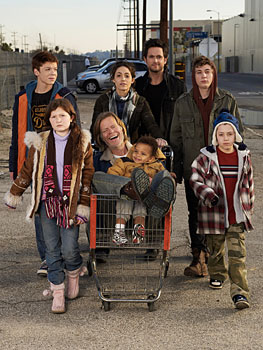 The first half of the preview is packaged as comedy — though the subject matter is dark, Frank narrates about each of his kids as we get a peek at each of their maladjusted daily lives. Then, things start to take a more serious turn as we see his eldest, Fiona (Emmy Rossum) trying to revive Frank after a bender, and a confrontation between two of the kids about an affair with a married man.
The delicate balance between comedy and drama is what sparks my intrigue about the show. It looks rife for black comedy and gags about rebellious kids, but there are also plenty of opportunities for heavy subject matter here. Plus, Showtime has been hitting it out of the park with its new series lately, and having William H. Macy as a leading man pretty much ensures great performances.
The series doesn't air until next January, but check out the funny, poignant preview when you read more.