Trophy Wife TV Show Info
Malin Akerman on Her New Show: "I Saw the Title and Said, 'Aw, Hell No'"
Trophy Wife is hitting the small screen this Fall, and the cast and producers were on hand to chat up (and crack up) reporters during the show's TCA panel this week. Malin Akerman stars as the titular character, but a lot of the laughs on the panel came from Sarah Haskins, the comedian-producer on whom the show is based. Haskins spilled on the parallels between her actual home life and the onscreen marriage between Akerman and Bradley Whitford, while Akerman explained why Trophy Wife represents "the new family unit."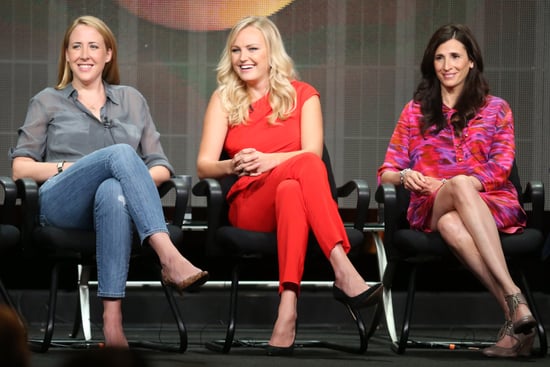 Executive producer Lee Eisenberg likened the show to the story of Goldilocks and the Three Bears, "In this case, Whitford is Goldilocks." When asked about why Whitford's character is so desirable that he would have three wives, Akerman said bluntly, "He's good in bed." Costar Michaela Watkins added, "He's Bradley Whitford from The West Wing." Enough said.
When asked if the story was inspired by the older men and younger wives of Los Angeles, Haskins clarified, "I have observed the situation by being it . . . I got bored and married my next-door neighbor." Of course, some details will be dramatized, but then again, some will be played down: "He'd been married three times before, but we didn't think America could accept that." Hopefully some of Haskins's real-life generational differences will be worked into the show, because she was pretty hilarious: "I mean, I knew about the Kennedy presidency," she joked. "He and my mom talk about The Mary Tyler Moore Show — that's not a slam. They do."
Haskins isn't the only one who can relate to the show: star Akerman talked about how she'd grown up in a mixed family. Though she originally admitted, "I saw the title and said, 'Aw, hell no,'" she changed her mind when she read the script. "I have a lot of half sisters and brothers . . . It's rare in general to meet people whose parents are still together in this day and age. It's abnormal at this point. It's more like, 'This is my third stepmom.'" She continued, "This is the new family unit we see so often; I wanted to explore that."