Trouble With the Curve Movie Review
The Three Strikes Against Trouble With the Curve
Clint Eastwood hasn't been in a movie since 2008's Gran Torino, and he hasn't been in a movie directed by anyone other than himself since '93. So is Eastwood in capable hands with first-time director Robert Lorenz in Trouble With the Curve? Not quite. Eastwood takes center stage as Gus, an old-school baseball scout whose career is threatened by the fact that he's going blind. Though he's far too stubborn to admit it, Gus needs his daughter, Mickey (Amy Adams), more than ever, but their relationship has been broken since the death of his wife when Mickey was just a child. When Mickey learns of her father's condition, she tags along with Gus on what could be his last scouting trip to observe high school ball players. With an excellent cast (that also includes John Goodman and Justin Timberlake), Trouble With the Curve should be a home run, but it strikes out one too many times. Here's why: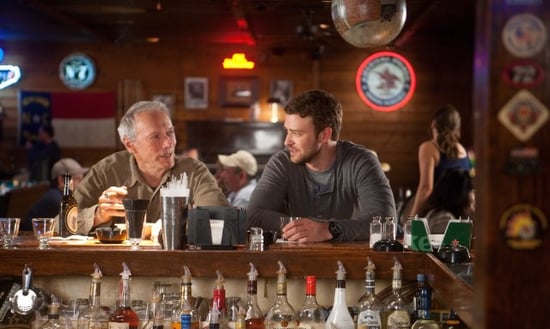 It tries to go in too many directions. Trouble With the Curve is a drama about the damaged relationship between Gus and Mickey. Oh, wait. It's a romantic comedy about a young scout named Johnny (Justin Timberlake) who is trying to win Mickey's heart by loosening her up. No, I'm sorry, it's a comedy about a crotchety scout who is losing his eyesight and therefore may be forced into retirement, letting his cartoonish, villainous colleague (Matthew Lillard) take over. Timberlake is charming, and Eastwood and Adams have palpable tension that makes their relationship feel real, but all these elements aren't knitted together closely enough to make the story compelling as a whole.
It's boring. You'd think with all those plot lines, there'd be precious little time left over for sluggish baseball scenes, but you'd be wrong. And I love a good baseball movie! Unfortunately, the inevitable "heartwarming sports showdown" shows up way too late, and the buildup is incredibly dull. The film is overstuffed with scenes of scouts making small talk at high school ball games, which makes the payoff only moderately satisfying.
It's all kinds of cheesy. Timberlake gets away with being a total goofball in this movie (he even dances!), but Eastwood falls victim to the sappier moments of the film. Eastwood delivers his grouchy one-liners to laughter-inducing perfection, but those moments are few and far between. Even though we've seen him play the cranky old man before, it's much easier to swallow Gus taking cheap shots than it is to see him crooning "You Are My Sunshine" to a tombstone (yes, that actually happens).