True Blood 2011 Comic-Con Panel
The True Blood Cast Reveals Season 4 Spoilers and More to the Comic-Con Crowd
True Blood hit the stage at Comic-Con, and lots of the cast showed up, including Alexander Skarsgard, Ryan Kwanten, Anna Paquin, Stephen Moyer, Rutina Wesley, Kevin Alejandro, Nelsan Ellis, Kristin Bauer, and Deborah Ann Woll, as well as creator Alan Ball. After letting us see some hot footage from the rest of season four (Eric and Sookie making out!), they dished on what we can expect on the show, and they answered tons of burning questions about the current storylines.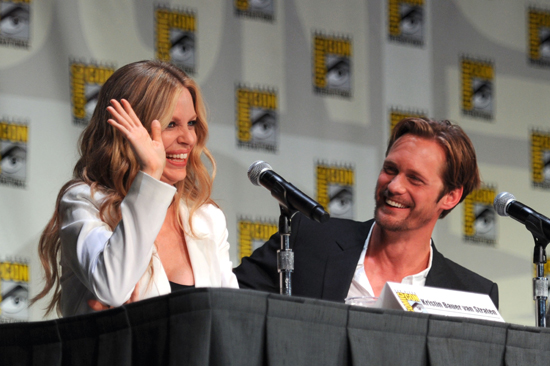 The funniest discussion to come out of the panel was over the outfit Eric's been wearing since he lost his memory, particularly, where it came from. Skarsgard surmised that the clothes are probably not Jason's, but might be something of Hoyt's that he once left behind. "It's a mystery of the season," Skarsgard joked. Ball also teased that it was "a really dorky outfit" but one that Skarsgard can wear "and still be insanely hot."
Regarding Jason's recent ritual werepanther raping scenes, Kwanten said that being strapped down and only able to use his face to act was a nice challenge for him as an actor. As creepy as the scenes were, Kwanten joked that Jason actually may have "enjoyed being called ghost daddy."
To find out more of what the True Blood cast talked about at Comic-Con, like what's up with Arlene's baby and what's next for Jason and Jessica, just read more.
Deborah Ann Woll addressed the question of what will happen between Jason and Jessica now that Jason has tasted her blood. Woll commented that she's more interested in "what happens when the V wears off" and how the feelings continue from then on. Like love feelings? Sounds good to me.
On the revelation of Bill's incestuous relationship with Portia, Moyer laughed that Bill should have gone to the local library. "Maybe it wasn't open at night," he cracked. He assured the audience that they will see each other again, "but Bill has bigger fish to fry."
Bauer talked about her recent corpse-face experience on the show and the hours in makeup it took to achieve. Here's the gross part: when she reached into her face to tear off the dead skin, there was a mixture of tapioca pudding and coffee grinds inside. "We worked really hard to make you squeamish," she added.
Will we find out what's going on with Arlene's baby? Ball says yes, "we will find out, and it's something really creepy."
On whether we'll see how Eric turned Pam into a vampire, Ball gave a definitive answer: No. Luckily, he said we'll "definitely see it in season five."