True Blood Comic-Con 2010 Panel Photos, and Quotes
The True Blood Cast Takes a Bite Out of Comic-Con!
It was a wild time inside the True Blood panel at Comic-Con tonight — I haven't seen a bigger fan response quite yet, and personally, I haven't been more excited about another event. The audience was given a sneak peek at a compilation of scenes from the last half of the current season, and I pretty much gasped throughout (yes, I know a fair amount of spoilers now. No, I won't spill them all here, so you can read on safely).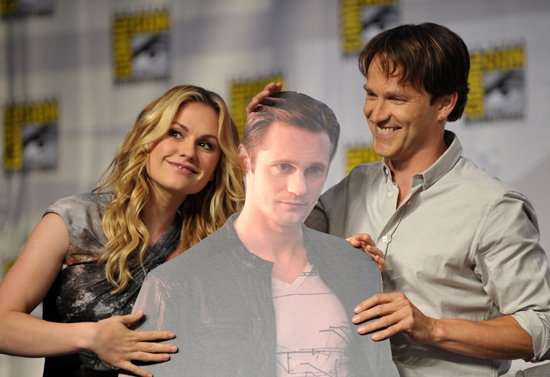 Most of the cast was represented on stage, including Anna Paquin, Stephen Moyer, Joe Manganiello, Sam Trammell, Nelsan Ellis, Deborah Ann Woll, Kristin Bauer, Denis O'Hare, and Rutina Wesley, as well as series creator Alan Ball and Charlaine Harris. The glaring omissions? Alexander Skarsgard and Ryan Kwanten, who are both filming movies right now. Moving on: so what did the sexiest cast on TV have to say?
Anna Paquin mentioned that she likes the action that's coming up for Sookie, and when the moderator dubbed her power "microwave hands," she joked, "Maybe she likes to make coffee hot." She continued to crack everyone up, doing Sookie's impersonation of Bill's "Sookeh," on command.
Stephen Moyer talked about Bill's current dark period ("It's so delicious to do") and revealed behind-the-scene details on the infamous twisted-head sex scene between Bill and Lorena. There was a "full lifecast" made of Mariana Klaveno's body, and Moyer was attached to the torso, and the dummy's "head" clicked as it turned. Yep, still yucky.
Joe Manganiello addressed his "brotherhood of the sock" comment, describing the choice of socks for the nudity scenes. Speaking of nudity, he teased that he may be naked in this week's episode! Oh my.
To read some more tidbits from the True Blood panel, just read more.
Sam Trammell hinted at what's going on with his birth family, the Mickenses, and it points to bad things for him. Sam is intent on helping his brother, but the family goes with the brother, which turns out to be "not the best thing in the end."
Nelsan Ellis talked about Lafayette's upcoming romance with Jesus, promising that "you see the softer side of Lafayette." As far as the not-soft side, he admits that he gets inspiration for Lafayette from his sisters. "I take all their crazy twisted antics and behaviors, and I stuff 'em into Lafayette."
On the hilarity that is new character Franklin Mott (played by James Frain, who wasn't there), Ball says, "he does actually care, in his own twisted way. Unfortunately, he's a psychopath." If you're loving Franklin too, good news; Ball says we're going to "luxuriate in the nature of his psychopathology."
Deborah Ann Woll answered the question of whether Hoyt and Jessica will get back together — sort of. She said that you need to love yourself first before you can love someone else, and "I don't know if Jessica loves herself very much."
When asked if Tara will ever get a break, Ball says there will be one for her toward the end of this season. . . "but it won't last." For her own part, Rutina Wesley doesn't mind: "If she was stable, it wouldn't be any fun!"
As for the future of Bill and Sookie's relationship, Ball says that he thinks they're soul mates. "I personally root for things to work out between them. I don't know if it will, but I believe their love is genuine." However, writer Harris addressed their connection too — but as far as the books go, Harris said "things are evolving differently in my world." Interesting.
The vampire King of Mississippi, Denis O'Hare, seems to really love playing Russell, saying, "I ran wild with it!"
Finally, Ball gave some very nebulous details on what we can expect in season four, which probably means more to those who have read the books. "There's a character who doesn't really know who he or she is . . . and becomes kind of a different person. And maybe someone who has hated this person doesn't hate them so much anymore."
Be sure to check out all of my Comic-Con coverage and follow me on Twitter for live updates!