True Blood Entertainment Weekly Cover
The True Blood Cast Talks Nudity, Fame, and Season Three!
I don't need to tell you that True Blood is hot, hot, hot — you can't avoid it around here if you tried, what with the daily serving of clips, photos, and new characters! Since it's all building up to Sunday's premiere of season three, Anna Paquin, Stephen Moyer, and Alexander Skarsgard landed the cover of this week's Entertainment Weekly. See what the cast has to say about the sexiness and secrets of season three!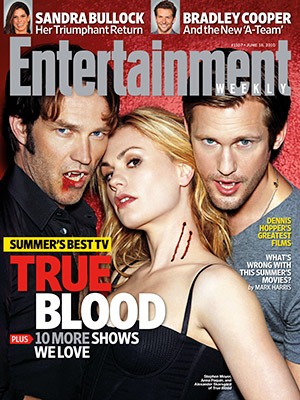 Alexander Skarsgard on his newfound fame: "It's quite surreal that people want to take a picture of me buying milk. I don't really get it."
Joe Manganiello on having to be nude as Alcide: "Having been a fan of the show, you know you're going to be naked at some point. I will say that I was welcomed into the brotherhood of the sock. When you're naked on the show, you have to wear a sock, and it's not on your foot."
Creator Alan Ball on this year's theme: "If last season's general theme was religion, I would say this season's theme is probably politics — vampire politics."
To hear some more, including how real-life couple Anna Paquin and Stephen Moyer feel about their sex scenes, just keep reading.
Sam Trammell's hints about the new season: "There are some elements, metaphors of racial politics and gender politics — they're there if you want to look for them, but it's really popcorn, fun entertainment."
Anna Paquin on how she feels about the nudity: "It doesn't really bother me. I'm really close with all of our cast, and we've all seen each other in various compromising and odd situations."
Stephen Moyer on how his relationship with Paquin is a benefit: "I think that one great bonus is we don't need a fluffer."