True Blood Episode Recap "Evil Is Going On" Season Three Finale
True Blood Bites: "Evil Is Going On" Season Finale
Get out your tissues and blot your blood tears away: the season three finale of True Blood has come and gone, my friends. We bid farewell to a couple of characters and watched as some relationships collapsed in front of our eyes.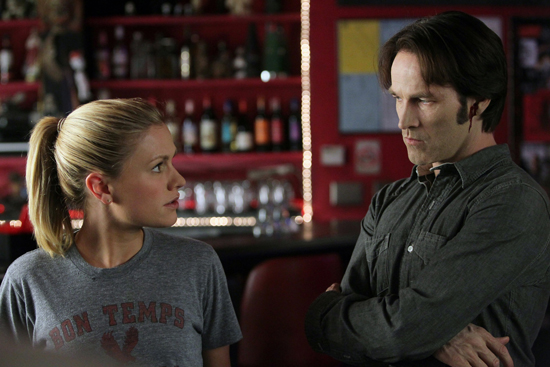 In true (frustrating) fashion, the show also served up a few cliffhangers, which we won't get to see resolved until — wait for it — next Summer. But like I said, dry your bloody tears so we can talk about the matter at hand: this week's season finale! Break it down when you read more.
Best tough-girl makeover: Sookie Stackhouse: badass?! She's been building up a repertoire of being able to take care of herself all season, but this week, she's an unstoppable force. Angry at Bill for betraying her again (or so she thinks), she marches outside to save Eric and let Russell roast in the sunshine. She's snappy, too: my favorite lines of hers to Bill are "You do not own me," and when she insists on letting Eric drink her blood to heal: "We both know he could lose control." But her most anti-Sookie act? Dropping Talbot's trifle-dish remains down the garbage disposal and cackling while Russell watches. Disgusting . . . and sort of awesome.
Worst crispy makeover: Russell's burnt-bacon face mask put me off my dinner (though I must admit, I got used to it eventually). I was confused for a bit about what Eric's intentions for him were; for a while it seemed that Godric's phantom disapproval of revenge would make Eric let Russell go. Not so: Eric's final plans for Russell involve a concrete grave at the Herveaux business. So long, most entertaining villain winner.
Biggest dream tease: Um, could we please find out what Alcide's dreams about Sookie entail? Or have them film a little bit of footage for it? Thank you. Despite the lack of a visual to go along with Alcide's admission that he misses Sookie, I'm just happy to have the scruffy were-stud back.
Least were-mantic breakup: Jason tries to do the honorable thing and help the people of Hotshot by warning them about the impending DEA arrival (or at least, the thing that would make Crystal happy), but her evil ex-fiance/brother/cousin kidnaps her — after going on a mini shooting spree. Crystal, not knowing her audience, tells Jason it's up to him to keep the Hotshotters safe. She takes off as he tells her he'll find her, someday. Snore.
Most irritating intervention: Hoyt's mother and Summer confront Hoyt about his relationship with Jessica (love that they're scandalized by the hickey-like bite marks on his neck), but he's not having it. Hoyt is serious about Jessica, and the proof is in the real estate pudding: he brings Jessica to a house he's found for them to live in together, saying he wants to marry her. Don't buy them a wedding present just yet: there's an ominous shot of a discarded item (a doll? Weigh in below) in one of the house's empty rooms, and we see Hoyt's mom purchasing a big scary rifle.
Best Felicity impression: Tara is freaked out by Sam's shapeshifter revelation, shaken by her mother's affair with the minister, and finally, haunted by memories of the last few months. So she does what any woman who needs a change does, and lops off her hair. Can't say I agree with Sookie's assessment that she "loves it!" New 'do intact, she drives by Merlotte's, and out of town, it would seem. I wouldn't count on her driving off into the sunset, though — trouble always seems to find Tara.
Biggest relationship red flag: Those visions Lafayette has been having since his V experience with Jesus lead to Jesus admitting that he's a witch. Yes, like Lafayette says: a witch who's a male nurse. I guess we knew he was too good to be true.
Worst relationship resolution: I get that Sam is furious about Tommy stealing his money, but I don't get his next move: shooting Tommy. Of course, we just see a gun go off and don't have confirmation that Tommy is hit or dead, but still. Sam: that's cold.
Most shocking act of jealousy: Were you as flabbergasted as I was when Bill tricks Eric with a handshake and sends him into a concrete grave like Russell's? He even tries to make it seem like it's with good intentions too, telling Sookie that he will end everyone who has tasted her, allegedly to keep her safe. Really, Bill, this has nothing to do with her burgeoning feelings for Eric? Eric escapes (much to my delight), still cool as a cucumber and covered in semi-dry concrete. So what's more shocking than Bill thinking he could kill Eric? The fact he reveals about Bill and Sookie's meeting. Bill let Sookie's beating (in the first episode of the series) happen so that he could feed her his blood. Sookie's right, as far as I'm concerned: Bill manipulated her into falling in love with him. It's over between them (for now at least), and though she may not be ready to welcome Eric into her life yet, she is ready for Claudine and her other fairy brethren. And Bill? He picks a fight with the vampire queen . . . to the death.
So there you have it, folks: the end of another season of True Blood. It's a hard pill to swallow that we won't get to see what happens with Sookie, Eric, and Bill until next Summer, but we'll get through it together. Let's chat about the finale below, and don't forget to join the True Blood Southern Vampire Series in the Buzz Community to get your fix!