True Blood Mini Episode Featuring Bill Ring Shopping
Watch Bill Shop For Rings in His True Blood Minisode!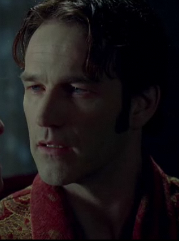 We've seen almost all the True Blood minisodes, so it's no surprise that after most everyone has had their time in the sun (well, maybe that's a bad choice of words), it'd be Bill's turn. Even though he's currently kidnapped, here we see him engagement ring shopping!
Even though the mini episodes don't necessarily reflect what's going on in the upcoming season, I'm guessing this is a flashback. To watch it, just
.