True Blood Recap "Beautifully Broken" Season 3 Episode 2
True Blood Bites: "Beautifully Broken" Episode
In the second episode of the new season, True Blood opens with a bite and ends with a bang, and finally lets us meet most of the new characters I told you about. Though there was a notable absence of sex, there was still a certain amount of sexiness, which can totally be blamed on one Eric Northman.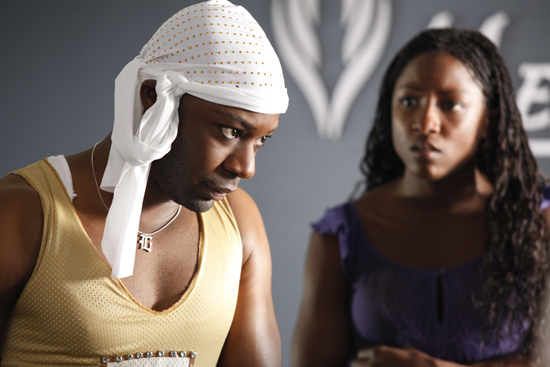 I'm dying to chat about it, but I don't want to slip out any spoilers, so let's break it down in this week's superlatives when you
.
Most inspirational character: Lafayette. I got chills when he carries Tara's body out of the house, telling Lettie Mae off with "You've failed this girl for the last time!" To give Tara a cold dose of reality, he takes her to the facility where his mother lives. His mother, Ruby Jean, isn't just crazy — she's also homophobic and racist. Good thing her caretaker Jesus (and Lafayette's new crush) can take it.
Most Upscale Meal for the Undead: The fancy blood spread at the King's home. We learn that Bill's werewolf kidnapping was orchestrated by the King, who wants Bill to take a Sheriff's position in Mississippi. He wants even more than that; specifically, Queen Sophie-Anne's hand in marriage! It's a power play, since the King is obviously not interested in her in a romantic way. Speaking of, how adorable — and well-mannered — is the King's companion, Talbot?
Best impression of Bill Compton: Sookie has the mother all laugh-out-loud moments when she impersonates the notorious way Bill says her name: "I keep expecting Bill to come through the door and say "Sookeh!"
Best girl-to-girl bathroom advice: Pam instructs Jessica on how to feed on someone without killing them. It's about time Pam imparted some hard-earned vampire wisdom! Jessica certainly needs it — when she rents a chainsaw (ew) to dispose of the corpse at Bill's, it's disappeared. Has he become a vampire (evidence of decomposition points to no), or did someone get to the body before her?
Most exciting character return: Godric. It's not exactly a return, but a flashback to when he and Eric posed as SS officers during World War II. When they come upon a female werewolf, Eric demands (in German) to know who her master is. She says it's "one of them," which is interesting; was the King controlling the weres then, or was it another vampire?
Best brotherly bonding: Sam meets the family who gave him up as a child, and while his birth parents are happy to see him, brother Tommy isn't so pleased. They take a run together in dog form (Tommy being a pit bull seems a bit foreboding), and Sam ends up almost hit by a car. Who else thinks Tommy led him in front of that vehicle?
Best pet anecdote: Terry's list of reasons why Arlene can trust him around his kids includes a bit of solid gold: he found a baby armadillo by the side if the road, nursed it back to health, and now lets it sleep under his bed. His name is Felix.
Most chill-inducing character introduction: Franklin Mott is the newest sexy-accented vampire in town, and we already have reason to be wary of him. His shoes give away that he's the mystery man sorting through info on Sookie (BTW, anyone else wondering why her grandfather Earl's name was also circled?). In any case, Franklin is also a hero of sorts when he holds back a couple of jerks for Tara to repeatedly punch. That qualifies as romance in Bon Temps.
Saddest tears: Hoyt's. The poor guy is heartbroken about not being with Jessica, and she says it's too late, but come on — we all know it's not.
Best way to settle a score: Lorena strides into the King's place with her usual attitude, until Bill sends an object flying at her head, setting her on fire. The last time we saw her, she was trying to kill Sookie, so let's just call it even.
Best line of the episode: Eric tells Sookie "You're going to invite me in so I can protect you. Or have passionate primal sex with you. How about both?" Deep breaths, people.
It seems like even more went down this week than in the premiere — mainly due to all the new people. Who were you most excited to encounter? And what were your favorite moments?
Photo courtesy of HBO