True Blood Recap "In the Beginning"
True Blood Bites: "In the Beginning"
Season five had a bit of a slow start, but things are finally starting to get interesting on True Blood. With Russell on the loose, Bill and Eric find themselves in a "if you can't beat 'em, join 'em" situation, and the results are amazing for those of us who love seeing these two serious-faced vampires let their hair down a little. Speaking of going with the crowd, Tara takes her job at Fangtasia to a new level, and Hoyt starts running with a seriously bad group of dudes.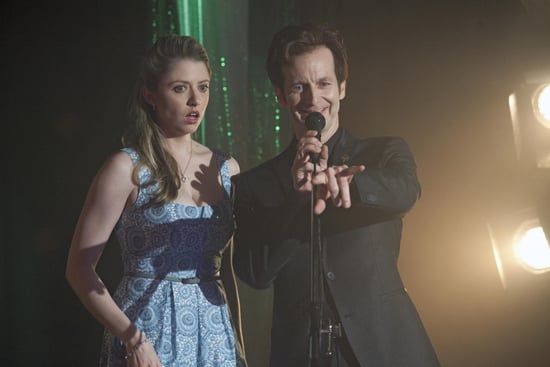 Meanwhile, Sookie learns that her fairy days may be numbered, and Alcide's already moving on to a new love interest. Now that we're halfway through, I'm hoping that the season will continue to pick up steam from here. Let's break down all the moments (some of which are very gross this week), when you
.
Most aggressive cold open: The opening scene is devoted to the aftermath of Roman's murder, with everyone panicking about Russell being on the loose. There are blackouts, screaming, and the works, and it all ends with a victorious Russell and Eric hanging from the rafters. Literally.
Best reinvention of "stop, drop, and roll:" Sam is a man on a mission, and he uses his shifter skills in a unique way when he picks up the scent of his attackers by writhing on the floor with his nose to the ground. Despite how awkward he looks, it works — and it comes to his aid once again when he targets a guy in the hospital.
Creepiest semicult: Hoyt's in with the new hate group, whose members seem to believe that they're actually filled with love. Was anyone else weirded out when they simultaneously tell Hoyt that they're "here to hate her [Jessica] with you"? And what will they do when they find Jess?
Second creepiest semicult: There's not much wolf pack action this week, but we see JD encourage his fellow werewolves to take V — including Luna's young daughter, Emma! For the first time ever, I was actually happy to see Marcus's cranky old mother show up to save the day.
Most intense sibling spat: Eric is beyond furious when he finds out that Nora has been secretly helping Russell (with the help of Salome). He has a lot of choice words for her, calling her a bible thumper and a lot of other names I can't write here. Godric shows up, begging Eric to turn her around, but I don't see how he's going to take on

Lilith

and her naked überpowers.
Best pick-me-up: I sure hope you didn't miss seeing Eric giving Bill a piggyback ride during vampires' night out, because it is amazing. I advise you to go back and rewind that entire scene. I'm now convinced that Bill and Eric should be on V a lot more if it means they'll be that funny.
Best Karate Kid impression: Alcide wears a sweet bandanna this week while he's working out and prepping to take on JD. Marcus's mom calls him "Rambo," but I prefer to think of it as an homage to Daniel LaRusso.
Most nostalgic moment: Aww, Terry and Arlene's wedding video! It's fun to get a peek into their nuptials at Merlotte's, especially since the ceremony takes place during Sookie's lost year. (Jason is mourning her absence until a PYT distracts him.) It's also bittersweet to see Jesus and

Lafayette

back in their glory days.
Best girl power moment: When Lafayette shows up at Jesus's grandfather's house, it sets all kind of grossness in motion. Namely, Jesus's head on a platter, Lafayette's lips sewn shut, and grandpa's got a baby on the way. I was fully prepping myself for some Breaking Dawn-level intensity with the pregnancy, but the baby mama takes matters into her own hands, killing Jesus's grandfather and freeing Lafayette.
Biggest two-timer: Jessica tries to kiss Jason right after she feeds off some dude's thigh. I echo Jason's disgust when I say, "Not cool."
Biggest waste of talent: When Sookie learns that her fairy powers will eventually run out, she's excited by the prospect of being a "normal human" for the first time in her life. To get there faster, she decides to start using her magic as fast as she possibly can. I understand Sookie's desire for normalcy, but is she really wasting all of that power when there are vampires on the loose who are regularly running after her?
How'd you feel about this week's episode?
Photo courtesy of HBO