True Blood Recap, "Burning Down the House"
True Blood Bites: "Burning Down the House"
This week's episode of True Blood isn't the most epic of the season, but it sets up (and wraps up) a few final story lines as we head into the home stretch. The war between the vampires and witches is intensifying now that King Bill is no longer interested in keeping the peace, and a significant character passes away after a tumultuous season.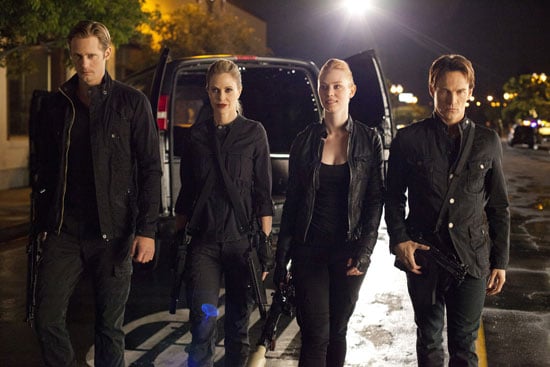 Most of all though, Eric has a major breakthrough that I welcomed with open arms. Let's break down all the major happenings from the episode when you
.
Best case of seeing the light: Eric finally gets his memory back, thanks to some fierce fairy power. When Martonia sics Eric and the rest of her vampire "slaves" on Bill, Sookie intercedes to save the king, using her power against Eric. Eric's old memories instantly start flooding back to him, but he's retained a little of that sweet side, too. The only problem is that he's none too pleased to hear that Sookie loves both him and Bill. Maybe Sook should try explaining her three-way fantasy to Sheriff Northman? Seriously, though, we're running out of time in this season, and she's going to have to make a decision, so who are you rooting for?
Most dramatic death scene: Well folks, Tommy's finally moved on to that big shifter paradise in the sky. Alcide tries to rush him to safety after sustaining significant injuries courtesy of Marcus, but Tommy insists that it's his time to go and asks to be taken "home" to Merlotte's. There, he and Sam finally make amends before Tommy passes on. It only lasts a minute, but man does that scene seem to go on forever. Sam resolves to avenge his brother's death by taking down Marcus, but Marcus is too busy trying to make wolf pups with Debbie Pelt (ew). Tommy has cheated death more than a few times before, but will you miss him now that he's finally gone?
Least compelling change of heart: I was definitely surprised to see that Marnie is actually the one pushing Antonia along in their little war on vampires, but both women bug me equally, so I can't say it's a game changer. The biggest shock is seeing how scared and guilty Antonia is when she separates from Marnie's body, but I'm just hoping the vampires can make both of these ladies disappear for good. And soon.
Most effective intervention: Terry finally catches on to his cousin's addiction to V and takes him to their old fort in the woods to sort Andy out. Andy tries to explain that he needs his "medicine," but Terry challenges him to a shooting contest to prove that Andy's drugs don't make him the stronger man. What ensues is a tête-à-tête in which both Andy and Terry air their grievances with each other from their entire lives. As it turns out, both men have been envious of one another, and the fight eventually becomes a breakthrough and brings them closer together. I've never been that into this storyline, but it's nice to see how far Terry's come, since the first season when he was battling post-traumatic stress disorder.
Most explosive plan: Bill wants to burn down the Moon Goddess Emporium at any cost, including killing Tara and the rest of the people who are trapped inside. Though Sookie pleads with him to think of Tara, Bill can only think about his fellow vampires. He rounds up Pam, Jessica, and Eric, and the foursome get decked out in black suits and approach the Emporium in a final scene that's so cheesy you can't help but love it.
Best B-team: Sookie decides to try to get to Tara before the vampires can, enlisting help from Jason,

Lafayette

, and Jesus. Jesus offers to approach Martonia by using his connection with Marnie as bait, but he's brutally rebuffed by a force field that Martonia has put into place to protect the Moon Goddess Emporium. Jesus uses his inner voodoo to transform his face into what looks like a horrible mask (remember Lafayette's vision from last season?) and gets through. Though he speaks with Marnie and learns that she's the one pulling all the strings, before he can make any more progress, Martonia finds his posse and zaps Lafayette and Sookie into oblivion, leaving only Jason behind.
How'd you feel about this week's episode? Do you think Jessica will honor Jason's request and glamour him? Will Alcide finally dump Debbie for good now that she's cheating on him? And who should Sookie choose? Let's discuss in the comments!
Photo courtesy of HBO