True Blood Recap Episode 3 "It Hurts Me Too" Season 3
True Blood Bites: "It Hurts Me Too" Episode
True Blood's third season is building momentum fast with its first block of episodes — each one has been more fantastic than the last, and this week's episode completely floored me. It was an exemplary display of the way this show devilishly mixes blood, sex, and tears with an insanely compelling story (the possibility of network syndication is looking even tougher to me).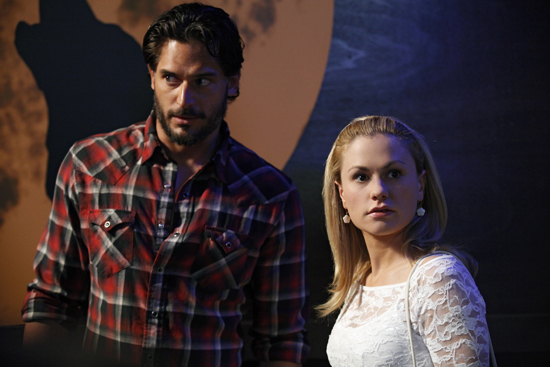 I have so much to say, but I can't do it without revealing spoilers, so let's break down the episode with my superlatives when you read more.
Best "I'll have what she's having" moment: Tara and Franklin's hillbilly-beating session last week led to a rather intense one night stand this week, in which Tara's eyes literally roll back in her head. Wow. Despite their connection, Tara wants to leave the rebound in the hotel and jets before telling him her name.
Worst stork news: Arlene goes to the doctor to confirm her pregnancy, which he does . . . a three-month-old pregnancy fathered by her serial-killing ex Rene. Arlene's never been a central character, but my heart dropped when the doctor tells her how old the fetus is. And sadly, I kind of understand her not being able to tell Terry that the baby's not his when he's so happy to hear the news.
Best answer to what the legal blood alcohol limit in the state of Louisiana is: "When you're drunk." Well, Jason may not be headed toward a law enforcement job, but he's really great at making me laugh. He seems to have lost his desire to work for the force, but since Sheriff Dearborne quit this week, Bon Temps may need all the help it can get.
Best BFF reinforcement: Sookie pays for Eggs's funeral, and Tara gets to give her short-lived love a proper goodbye. Tara's still having a rough time, but she agrees to move back into Sookie's house. That actually backfires when Franklin glamours Tara to get inside the house, after Jessica divulged the info (I guess she's a real blabber mouth when you confront her with the head of the human she recently killed). Regarding Franklin: Do you think Eric hired him to kidnap Bill the night the weres got there first?
Saddest history lesson: The King's job offer to Bill includes veiled threats toward Sookie and a suggestion that he turn her. This conflict leads to flashbacks of when Bill visited his wife (The O.C.'s Shannon Lucio) in 1868, a few years after becoming a vampire. My favorite Bill scenes have always been his flashbacks, insight into what he's been through. This incident is particularly heartbreaking: Bill discovers that his son had died of smallpox and we see his blood tears as he reveals what he's become. Lorena had followed, and cruelly drinks from Caroline as Bill watches. I haven't decided if Bill is completely lying to the King when he accepts the sheriff position, or if he's remembering Lorena's advice in 1868: "The only way to show your love for a human is to stay away forever." Would he stay away from Sookie to shield her from the kind of danger he put Caroline in?
Most exciting character entrance: Alcide! Eric has the extremely hot werewolf look after Sookie and accompany her to Jackson and get more info on Bill's whereabouts. Here's a little detail we have on Alcide (besides that he looks great in a henley): his ex-girlfriend is now engaged to Coot, the leader of the were pack that took Bill.
Nicest employee-of-the-month-gift: Eric gives

Lafayette

a car to show his appreciation, and pumps him up a little by telling him how valuable he is. What does Eric want? And more importantly, who cares when he looks so great sitting in the driver's seat?
Dumbest werewolf-baiting tactic: Sookie uses herself to get some intel at a scary were bar, screaming to get saved by Alcide. Lucky that girl's got herself so many protectors, otherwise she'd have been dogmeat long ago.

Worst display of infidelity: In a show with a history of disturbing sex scenes, I think Bill's hate sex with Lorena is the most disturbing sex scene of the series, ever. I could hardly tell how it started, but by the time her head was completely twisted around, saying she still loved him, I felt like I'd been having a nightmare. On the one hand, because, ew, and on the other hand, because of Sookie. Will this completely tear them apart? I'd be lying if I said I wasn't a little guiltily happy that this could lead to Sookie turning to Eric.
Do you agree with me that this is the best episode this season so far? What did you make of that final scene? Let me know in comments!