True Blood Recap Episode 4 "9 Crimes" Season 3
True Blood Bites: "9 Crimes" Episode
True Blood's welcome return picks up after the last, shocking head-twisting installment with some heartbreak, law enforcement, and gore — it's so nice to have you back, guys!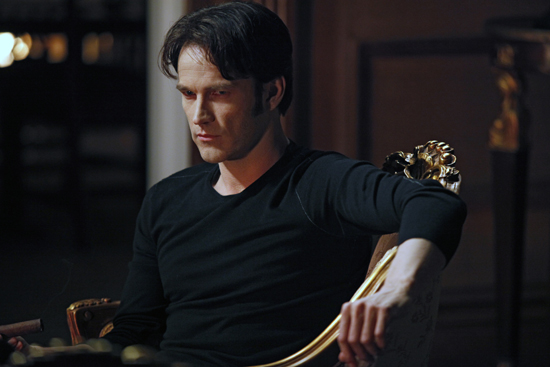 Though I was unsatisfied with the amount of time some of my favorite characters got this week, I was dying to see the aftermath of Bill's indiscretion — and as always, I was mostly looking forward to having Alexander Skarsgard back in my life. But I don't want to go and reveal too much, so to break down what happened this week with me, just keep reading.
Meanest breakup phone call since Joe Jonas and Taylor Swift: After a brief, sexy moment between Sookie and shirtless Alcide, Sookie's phone rings. Bill tells Sookie about his tryst with Lorena, and that he's leaving Bon Temps — and her. "We were doomed from the start," he says as she sobs, disbelieving and devastated. Come on Bill — even Edward told Bella that he was no good for her in person.
Worst wooing skills: So far Tara's new relationship with Franklin isn't as hot as their first encounter. He glamours her into giving up more info on Bill and Sookie, sinks his teeth into her neck, then ties her up (it's not as sexy as it sounds) and takes her with him to the King's in Jackson.
Most anticipated death: Even though it seems like Bill's gone all dark side, there's still a part of him that's fighting: he tells the King that he wants Lorena gone in return for working with him, and offers his knowledge that Eric is selling V for Queen Sophie-Anne.
Hottest daydream: It's so not hard to believe that Eric is everyone's favorite character — there was not nearly enough of him this week, but his few scenes were priceless. First, he flies and fantasizes about Sookie, then gives

Lafayette

a new nickname ("RuPaul") after being his insta-bodyguard when a drug deal gets him roughed up by some hooligans. Finally, he shows more of that emotion that's continuing to emerge when Fangtasia is raided. Unable to abide Pam's torture at the hands of the Magister, he frames Bill for the V trade to save Pam.

Best use of temporary tattoos: Forgive me, but even though I want Sookie to hook up with Eric now that she and Bill are on a break, I'm totally rooting for a rebound with Alcide. It's obvious they're attracted to each other and are in the same sad-sack broken hearts club. But for now, he's just giving her harsh advice to let go of Bill, a result of his recent breakup with Debbie Pelt. The stubborn Southern belle isn't ready to give up, though, and she gets herself a goth makeover from Alcide's sister Janice and convinces Alcide to go to Debbie's engagement party. Her argument? Debbie is getting initiated into the evil pack and is addicted to V, and this could be his last chance to save her.
Worst application of recent life experience: Oh, Jason: After heroically giving the town's new hotshot football player a piece of his mind for interrupting Bud's retirement party, he blackmails Andy into making him a cop immediately. It's like he takes one step forward and two steps back whenever he tries to do something with his life.
Best application of recent life experience: Jessica is suffering from the not-enough-screen-time disease, but when she gets a new job at Merlotte's, she glamours her first human. Even so, it's not enough, and I miss her. Hopefully this new job opportunity means she'll be more of a presence soon.
Best reason to stop thinking your parents are embarrassing: Sam's troubled relationship with his biological family improves a little when Tommy unloads on him about the burden of their parents. To help, Sam offers the Mickens a place to stay until they can get back on their feet, and in doing so, exchanges his first brotherly look with Tommy.
Least conventional engagement party: At Debbie's initiation/engagement party, Russell is the guest of honor, supplying Operation Werewolf with his blood before Debbie gets branded, triggering a mass werewolf shift in the bar. The last thing Alcide says to Sookie is to run — and the flash of danger triggers Bill's instinct that Sookie is in peril.
What did you think of this week's episode, and the direction of the third season so far? I'm not loving the evil Bill act, even if he's not really into it, and I'm hoping that Lorena gets the old stake to the heart soon. Let me know your thoughts below, and as always, you can chat about the show anytime and write your own True Blood posts and polls in the True Blood Southern Vampire Series group in the Buzz community!
Photos courtesy of HBO