Yes, just like the title "F*ck the Pain Away" implies, there is a lot of sexin' this week on True Blood, and I'm pretty sure it's one of the reasons why this season is getting better. Sarah Newlin and Jason have a religion-infused reunion, and we see the sexual (but not necessarily sexy) way that Lilith had made Warlow way back when. Speaking of Warlow, there are revelations galore about his connection to Sookie, and it turns out that he might not be as evil as we'd been led to believe. Keep reading for a recap of this week's episode of True Blood — and the accompanying GIFs that express how we feel about everything.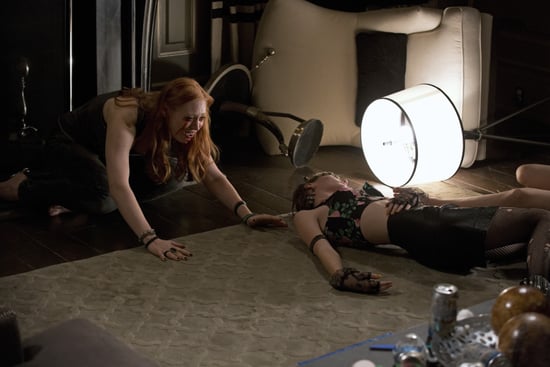 When Warlow Says He Killed Sookie's Parents Because They Were Trying to Kill Her


Sookie ends her makeout session with Warlow by threatening to kill him, but his defense is that he was just saving her from her own parents, who feared what she was.


Get the rest of the recap after the jump.
When Warlow Says He Loves Sookie


Listen, I understand Sookie's hesitation to believe Warlow, but am I the only one who wants to believe that he really is just in love with her?


When Jessica Tries to Get It on With Bill


A high-on-fairy-blood Jessica is hysterical about killing Andy's daughters — and also horny enough to put the moves on Bill. Ew, he's like your dad!


When Andy Is Crying Over His Slain Daughters


I was definitely annoyed by Andy's rapidly growing daughters last week, but his emotional scene while grieving over his babies is actually really sad. I'm hoping his one surviving daughter makes it through.


When Bill Is Talking Like He's Lilith


I get that Bill has all of Lilith's memories since he drank her blood, but it's super weird that he talks as if he's her.


Watching That Awkward Flashback Sex Scene Between Lilith and Warlow


And that's how you make a fairy/vampire hybrid. That scene couldn't have been less silly or less hot.


Watching the Alcide Drama With His Dad


I used to love Alcide, but the werewolf story line — and this week's uninteresting run-in with Alcide's dad — is boring and needs to stop.


When Jason Has Sex With Sarah Newlin


Now this is the True Blood I know and love! Jason and Sarah get it on, despite all that's happened between them because, uh, God wanted her to do him.


When Jason Says He Had Loved "Everything" About Jessica


Aw, remember when Jason and Jessica were together? I love that she runs to him when she's freaking out, even though it leads to her getting captured.


When Sarah Utters "Vampire-Lovin' Pecker"


Best line of the night goes to Sarah, who feels "defiled" after she finds out that Jason has also had sex with vampires.


When Terry Asks to Be Killed


I've been bored by Terry's character for a long time, but this scene surprised me. Like Andy's grief, it's actually really sad too.


When Tara and Jessica Meet Up in Vampire Jail


It's nice that they have each other in "vamp camp," but they're obviously not safe — their surroundings match Bill's earlier vision of all the vampires dying.


When We Find Out the Truth About Sookie's Parents


Sookie and Lafayette have a séance, and it turns out Sookie's parents did try to kill her, and Warlow killed them to prevent it. And thus, something we believed from the beginning of the series gets shaken up!


When Sookie's Dad Gets Inside Lafayette


This again? I guess it's fun to give Lafayette something to do.


When Pam and Eric Are Pitted Against Each Other


Eric's plan to make the governor love his vampire daughter backfires, and he gets pitted against Pam as revenge. Will they have to fight to the death?


When Lafayette/Sookie's Dad Tries to Kill Sookie Again


Sookie ends up the victim again when Lafayette/her dad tries to drown her. Who's going to save her this time?