True Blood Recap "I Smell a Rat" Episode
True Blood Bites: "I Smell a Rat" Episode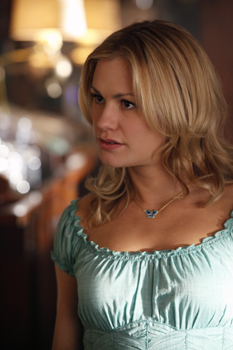 There will be no True Blood recap this week, because I can only think of one scene (AKA The Greatest True Blood scene ever) that happened in the episode and it is clouding my entire brain. Just kidding! Though there was scene that I watched several times over, plenty of other stuff (really!) goes on in this installment.
Chock full of revelations (and good feelings I might add: congrats to newly married stars Anna Paquin and Stephen Moyer on their weekend wedding!), this is possibly my favorite episode of season three thus far. Let's get to it before I spill spoilers when you read more.
Least threatening-sounding supernatural being: Bill tells Sookie about his visit to weirdo fairlyland, and what she is, or what he thinks she is: a fairy. Or something like a fairy, or one of the "old people," or . . . an alien. What's more disconcerting is that vampires have supposedly made Sookie's kind extinct. So: That's it? A fairy? Really? Tell me there's more.
Most depressing backstory: Sam has a Sawyer-esque flashback (starring Arielle Kebbel!) where we learn that he used to use his shapeshifting skills to steal jewels, and once ended up on the wrong side of the con. The epilogue is much darker: after following his trifling ex and her boyfriend to get his money back, he shoots her in self-defense . . . and then the boyfriend, to dispose of any witnesses.
Most jarring bedroom visitor: Lafayette and Jesus save Crystal's father with a dose V, but old man meth isn't grateful. He takes off after words with Crystal: she won't go back to her old life and marry her ex-fiance and continue the bloodline of whatever she is. Which we finally find out! She's a werepanther, and we see her in full shift in Jason's house by the end of the episode.
Worst trip, bro: Newly excited about the prospect of taking V, Jesus proposes he and Lafayette take the drug together. Suspicious. They have a freaky shared experience visiting both of sides of their respective heritages, which is kind of a fun history lesson until we meet Jesus's voodoo-loving sorcerer grandfather.
Sweetest will and testament: Eric is all but resigned to lose to Russell when he goes to battle against him, leaving everything to Pam in his will. He pays Bill and Sookie a visit and reveals to Bill that he knows about Sookie, and that her blood lets vampires "walk in the sunlight." He seems seduced by the idea as he puts the thoughts together, and relates that Sophie-Anne will be disappointed.
Best substitution for Bon Temps Planned Parenthood: Arlene confesses to Terry that the baby isn't his, and her fear that the child will be evil because of Rene. My heart grew three times as Terry says that he'll raise the child as his own, and still wants to marry Arlene. Unfortunately, it doesn't work for Arlene, and she asks the new Wiccan waitress about other methods to get rid of the baby.
Worst way to lose a crush on someone: Jason experiences a new bout of PTSD after killing Franklin, which prompts him to tell Sookie that he also killed Eggs. He's still scared to tell Tara as well, but when she tries to thank him by slipping him a little tongue, he pounces on her vulnerability and admits that he shot Eggs. All we see is Tara's anguished face before she runs off. It's the wrong time for Bill to come barging in, telling Jason what a screw-up he is. I have to admit: I loved when Jason refuses to be dominated by Bill and banishes him from his home.
Most appropriate way to kiss and make up: Hoyt dumps his inhumanly annoying girlfriend and tells Jessica that he loves her and they should be together. Jealous Tommy (who'd tried and failed to kiss her earlier) turns into a pit bull to attack Hoyt outside the bar, but Jessica saves him, first from the dog, then from his wounds by forcing him to drink her blood. Oh, you two. Way to make things work!
The greatest True Blood scene ever: Highlight of my evening, maybe entire Summer: Sookie's Eric fantasies finally become a reality! First she dreams him of kissing her softly, telling her she knows she can't trust Bill. Then comes the good stuff: when she goes to see him, all he needs to do is say that his greatest regret would be dying before getting a kiss and Sookie's lips are his. (Note to Eric Northman: My greatest regret in life would be dying without getting a kiss from you, so please help a girl out.) Pam interrupts the makeout to needle Eric about using Sookie to defeat Russell, but Eric refuses. . . or, he does momentarily, anyway. Far less romantic than the kiss is when Eric chains Sookie in his basement.
Most off-putting cameo: Who else spotted Michael Steger (AKA Navid from 90210)? He makes a short appearance as a prostitute that Russell uses to say his goodbyes to Talbot. It's a pretty weird scene, and that's all I have to say about that.
I hate that there are only two episodes of season three left — it's getting so good right now! So aside from the best kiss on the show ever, what else did you think? Chime in in the comments below, and prove your fandom by joining the True Blood Southern Vampire Series in the Buzz Community for more!