True Blood Recap For "I'm Alive and on Fire"
True Blood Bites: "I'm Alive and on Fire" Episode
This week's True Blood contains so many defined abs that I can't even start to count them. Actual developments include Jason finally escaping from the most awful situation in all of Louisiana, Sam getting in deep with his new love interest, the witches gaining power, and Eric being naked and still wonderfully sweet.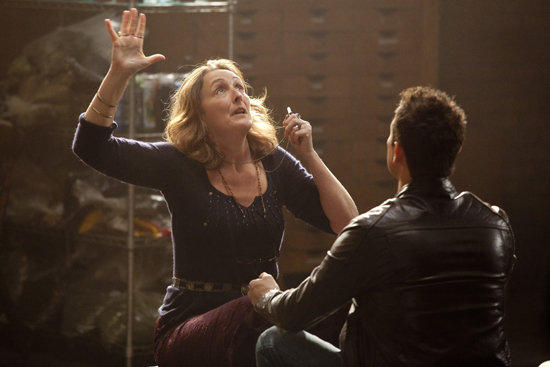 While this episode is really about setting up a lot of things, I'm excited about where those things are going. If you're ready to talk about this week's episode, just
.
Best Drunk Acting: Amnesiac Eric is maybe the most adorable character on TV, ever. Turns out that Claudine's fairy blood makes Eric behave like a drunk person, and after he pinches Sookie's butt repeatedly, he runs off to go swimming. Once the sun starts burning him, Sookie brings him home and takes care of him, but refuses to stay with him when he requests it. I would love to know what her willpower secret is, because I could never say no to that face.
Best eye candy scene: Alcide and Eric have a supernatural beings quarrel when Sookie enlists her werewolf bud to help find Eric, and the guys end up challenging each other while completely naked. My eyeballs fell out of my head. Is this the first time that we've seen two of the show's hot dudes shirtless in one scene? Either way, I wish I could talk more about Alcide's six-pack, but the image of him disrobing has made me dumb.
Most disturbing it-gets-worse-before-it-gets-better scenario: I feel like I can barely talk about Jason's were-rape situation, but we obviously have to address it. In the contest for the sickest tidbit, one were-lady says that raping Jason is the "best she's ever had," and a little girl, Becky, almost tries to get it on with the Hotshot prisoner. She ultimately ends up letting Jason free, who then varies between weakness and superhuman strength. He's on the verge of death, but he's still able to knock people out and spear panthers (good riddance, Felton). Does that mean he's turning into a werepanther already?
Worst Parental Support: Tommy finds his mom after she calls him up to allegedly check on him. After Melinda lies and says that she left Tommy's dad and Tommy brags about how Hooked on Phonics worked for him, Joe Lee appears and wraps a chain around Tommy's neck, most likely to use him for dogfighting again. Can nothing good happen to this dude?
Most obvious foreshadowing: Debbie Pelt is so going to go bad again. She might be trying to be good now, but she's simmering under the surface when Alcide talks about helping Sookie. Hey, I'd be jealous too if I'd seen that sexual-tension-filled hug he and Sookie share on her porch.
Most inconvenient pop-in: Sam tries to surprise his new flame Luna at her house, but he finds something she didn't mention before: her daughter, Emma. They get closer when Sam bonds with the little girl, but Luna admits to Sam that her werewolf ex is hostile and still keeps an eye on her.
Most awkward genealogy class: Bill meets with the grandmother of his new fling, Portia, and everything is going swimmingly — until they check out the Bellefleur family tree. Turns out that Bill is related to Portia, which makes their hook-up last week a whole lot more incesty.
Worst child development: The baby doll seems to be wreaking havoc on Terry and Arlene's household. We don't know who or what does it, but something writes a creepy message on the wall: "Baby not yours." I'm choosing to believe that it's not cutie baby Mikey who's evil, but that hideous doll.
Best deception: Sookie insists that Bill not search her house for Eric, but he pushes on. Her asking him "When have I ever lied to you?" changes his mind, and he calls off his search, but now Sookie has lied to Bill. I'd care more about the future of their relationship if I weren't so obsessed with Sookie and Eric getting together — and the kiss she had denied Eric moments earlier.
Most unexpected love connection: Thank the heavens that someone finds Jason when he's near death on the side of the road. It's even better and more intriguing that it's Hoyt and Jessica who find him, and that Jessica feeds Jason her blood to save him. We know that they'll be linked now, and Jason will soon start having erotic dreams about Jessica. Is everyone loving this as much as I am? I like Hoyt and all, but a Jason/Jessica connection is sort of awesome. Hey, anything beats the werepanther storyline for Jason.
Goriest spell: Pam confronts Marnie about what she did to Eric, and the witch — possessed by the spirit of a more powerful sorceress — casts a disgusting spell on Pam that turns her into a corpse. There hasn't been this much gore on the show this season yet, but Pam peeling off her own cheek rates pretty highly on my personal gross-out meter.
What did you think of this week's True Blood? I'm liking the direction of the season so far, and the way the relationships seem to be forming. What was your favorite part?
Photo courtesy of HBO