True Blood Recap, "Let's Get Out of Here"
True Blood Bites: "Let's Get Out of Here"
We see an interesting side to a lot of characters in this week's episode of True Blood. Lafayette (as inhabited by the spirit Mavis) spends most of the episode squeezing in the word "bébé" into every sentence of dialogue, and Debbie and Antonia begin to spin out of control.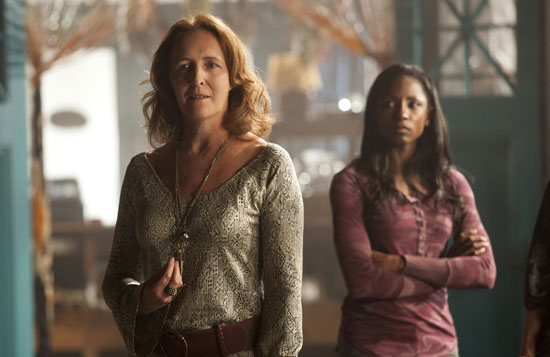 Consumed by her need to obliterate vampires, Antonia begins to alienate her coven and amps up her efforts in her war against bloodsuckers with a plan that ends in an intense cliff-hanger. I'm eager to hear how you guys think the story might develop, so let's break down this week's episode first when you
.
Most likely she-wolf to have a nervous breakdown: A paranoid Debbie pays Sookie a jittery, V-fueled visit, assuring a suspicious Sookie that she's not crazy — which, of course, only makes her seem crazier — and offering her assistance in finding Eric. I couldn't help but feel sorry for Debbie when she looks so surprised that Sookie reveals that she trusts her, and that Alcide really does love her. Nevertheless, I quickly went back to disliking her when she tries to ditch Sookie as they flee Antonia's headquarters. Was Debbie only freaking out over almost being called out by the witch, or did she intend to betray Sookie all along? Either way, she's clearly bad news.
Worst way to make amends: Are you all as annoyed by Tommy as I am? Sure, it's kind of sweet that he tries to face Sam's battle with Marcus, but as usual, Tommy only ends up making things worse. He shifts into Sam and attempts to convince the big bad wolf that Tommy — not Sam — slept with his former wife, Luna, so that the pack will go after him instead of Sam. However, in typical Tommy fashion, he's belligerent and has to get under Marcus's skin, which means he ends up getting beaten unconscious. Tommy's mistakes are getting ridiculous at this point. Will this shifty shifter ever learn?
Weirdest Ghost Whisperer moment: Jesus comes to his boyfriend's rescue, exorcising Mavis's spirit from

Lafayette's

body. Jesus explains to Mavis that something she never made peace with is causing her spirit to linger in the world of the living, but she has more trouble believing she's in a male body until she hilariously goes poking around her new form. I half-expected Jennifer Love Hewitt to pop up in the scene in which Jesus expels Mavis's spirit from Lafayette's body. I found the lighting effects cheesy and couldn't help but wonder why the now-closed story line had been included at all. Will we see Mavis again or was this just a weird, self-contained side story?
Most racy dream: Fueled by a fresh supply of Bill's blood, Sookie finds herself dreaming about the king of Louisiana and Eric simultaneously. Her subconscious clues her into the fact that she still has feelings — both sexual and emotional — for each vampire, and she comes to the conclusion that she wants them both. It's nice to see Sookie take control of her love life in such a firm way, albeit in dream form, but it's only a matter of time before she'll need to make a choice in the real world.
Best recurring appearance of

Taylor Swift

's CD: In a bitter ex-boyfriend move, Hoyt decides to pack up all of Jessica's belongings in a box marked "For you, monster," including a Taylor Swift album. Later, Jason comes across the same Taylor Swift album, and Hoyt has him deliver it along with the other items to Jessica. Hoyt basically sends Jason into Jessica's arms, as the two end up getting busy in the bed of Jason's pickup truck, while Swift's "Haunted" plays in the background. With Hoyt acting like such a jerk, I was pretty excited to see the couple get together, but I'm not looking forward to the fallout between Jason and his best friend.
Bossiest witch: Antonia really has to work on her people skills, as all but one member of her coven — the friendless Roy — aren't responding well to her supercontrolling approach to leading the group. She flips out when her witches refuse to join hands and then casts a spell that keeps her coven members trapped against their will. Looks like Antonia doesn't know how to interact well with people when she isn't controlling them via a spell, as she is Eric (aka the blond one), who is in the midst of carrying out her assassination plot toward the end of the episode. Sookie warns Bill to run, but chaos has already broken out at the Festival of Tolerance by the time she reaches him.
How do you think the episode's cliff-hanger will play out? We know Eric is older and stronger than Bill, so how does the king stand a chance? Perhaps Sookie's fairy powers will come into play? Tell me what you think in the comments section below!
Photo courtesy of HBO