True Blood Recap of "Life Matters"
True Blood GIF Recap: "Life Matters"
True Blood has always gone for the jugular (sometimes literally) with the grossness, but this week, the show really outdoes itself. Eric goes on a rampage at vampire camp, and he and Bill finally put an end to the suffering of the vampires. It's also the end for Terry, whose funeral we spend about half the episode at, and it's a pretty solemn goodbye, because he also gets several flashbacks devoted to him. There's only one more episode left in the season, so before next week's season finale, let's go over this week's momentous (and very gross) events in GIFs!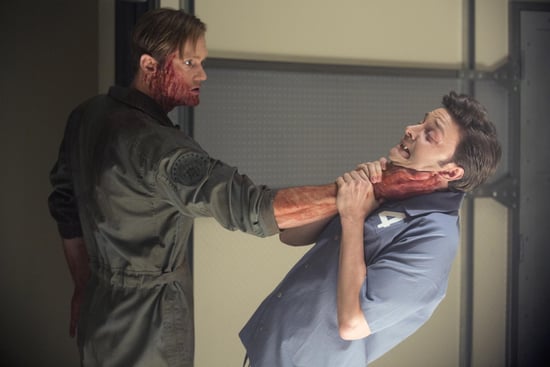 When Sookie Is Gnawing on Her Own Arm


Sookie has to give Warlow some of her blood to heal, and frankly, she has gotten way too comfortable making herself bleed.


When Eric Rips the Doctor's Penis Off


I thought we'd seen every gross thing happen on this show until Eric goes straight for the manhood of the doctor who injected Nora with Hep V. It's awful — and it gets even worse when we have to see the ripped-off appendage on the ground. Ugh.


When Bill Steps on the Same Doctor's Face


That guy really needed to be killed, and Bill has no problem just stomping on his face when he finds out the doctor had also been cruel to Jessica. I never liked that guy, but geez!


Get the rest of the GIFs after the jump.
When Alcide Shows Up at Terry's Funeral


Sure, he could use a haircut, but Alcide cleans up quite nice. (And how great does Lafayette look in that purple suit?)


When Lafayette Shows Terry How to Cook Fries in a Flashback


We get lots of flashbacks from the characters as they recall memories of Terry, but are those seriously everyone's best memories of him? They're so weak. Lafayette's flashback is the best, though, because we get to see some cute dance moves.


When Sarah Climbs to the Ceiling to Let the Sun In


Sarah Newlin claws her way to the top of the building where all the vampires are, and Bill's vision of the vampires meeting the sun is finally fulfilled as she opens up the ceiling.


When Bill Sacrifices Himself So the Other Vampires Can Walk in the Sun


Happily, Bill's actually makes himself useful and figures out that he can save his vampire friends by letting them feed from him.


When Steve Newlin Doesn't Get to Drink the Blood and Gets Killed Instead


Finally, little twerpy Steve Newlin gets exactly what he deserves. No one lets him in to feed on Bill, and Eric steps in to make sure Steve meets the true death.


When Jason Tackles Sarah


I was so excited that Jason takes it upon himself to exact revenge on Sarah, who more than deserves it. Until . . .


When Jason Lets Sarah Go


. . . Because he doesn't want any more blood on his hands. That's noble and all, but you can't just let Sarah go! We haven't seen the last of her, for sure.


When the Vampires Are Frolicking in the Sun


All the Tru Blood is getting smashed, and everyone is so happy, but it seems like there's still danger on the horizon for our favorite vamps. And where is Eric going?!