True Blood Recap For "Me and the Devil"
True Blood Bites: "Me and the Devil" Episode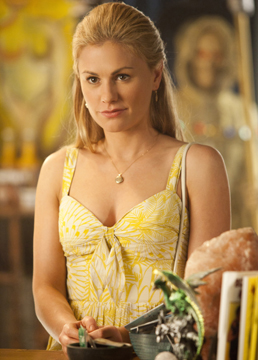 Even though this episode mostly felt like filler, the heart-stopping final scene makes this week's episode of True Blood so worth it. There's also a visit from Godric, a couple of murders, and more witch mayhem. But it has to be Alexander Skarsgard who's this week's MVP yet again — his portrayal of "new" Eric is so irresistibly wholesome; he continues to surprise me and make me love him even more.
Let's get down to business and chat about the episode — I'm as excited to hear about your thoughts as I am about next week's episode. To break it all down into superlatives, just
.


Most justified character deaths: In self-defense, Tommy gets the better of Joe Lee, killing him and accidentally killing his mother too. Panicked, Tommy brings the dead bodies to Sam for help. Though they're almost caught by Andy, Tommy cleverly shifts into a crocodile, scaring Andy off. Real crocs take care of the dead body disposal, but Tommy is haunted by what he's done, and surprisingly, Sam comforts him by confessing the murders he had committed years before. I'm worried that the brothers will get caught, but I'm seriously relieved that Melinda and Joe Lee are gone.
Biggest creep: Portia is a weirdo, you guys. She tries to argue her way back into Bill's pants by presenting all the incest laws that have been repealed. It can't be that hard to find a dude to date in Louisiana. Thankfully, Bill glamours her into thinking that she's scared of him, and she runs away screaming.
Most impressive palm reading: Sookie goes to see what she can find out from Marnie and the witch channels Gran. To Sookie's surprise, her telepathic powers unlock a gift: she can hear Gran's thoughts through the witch. Gran warns her that even though she's falling in love, it's a temporary situation, and that she needs to run away from Marnie, which she does. So she's definitely falling for Eric (we'll talk about this later), but his memories will be back?
Worst way to kill a goat: Jesus thinks he and

Lafayette

should pay a visit to his warlock grandfather, who looks like a character out of a Tarantino film. He explains that the last time he saw his Grandpa, he made him slaughter a goat. It's pretty awful, but Jesus knows that the power he felt that day years ago is the key to getting them out of their mess with Marnie and Eric. I had a really bad feeling when they get to granddad's place, though.
Lest effective exorcism: Ugh, Tara's mom returns briefly with her new husband, the Reverend Daniels, to help get rid of the spirit of Rene in Terry and Arlene's house. How about you guys get rid of that baby doll? It's creepy, maybe possessed, and super filthy. They think it works, and are happy for a moment — until we see a book of matches spontaneously ignite.
Biggest sex dream damper: Rescued by Jessica and Hoyt, Jason starts having his first sexy Jessica dreams, which would be a lot hotter if Hoyt wasn't invading them. I'm with Jason; as long as it's not real, there's no problem with enjoying some hot Jason/Jessica action, but Hoyt's torso grinding on top of Jason really takes you out of the moment (even it is hilarious). At the same time, Jessica seems to be suddenly unattracted to Hoyt. Does she want Jason too? Speaking of, Jason also gets freaked out when someone mentions that a full moon is a-comin'. Will he transform into a werepanther?
Best return of Lafayette's use of "hooka": After putting the corpse spell on Pam, Marnie gets the best nicknames from Lafayette this week: the classic "hooka" and the brand-new "witchie-poo." Anyway, Bill's spy ambushes her with vampire soldiers, who imprison her. She insists to Bill that she doesn't know how to reverse Pam's spell while having visions of her witch possessor being terrorized by vampire priests. As we learn from one of the sheriffs Bill assembles later, the priests were getting rid of the witches who knew of their existence.
Best Eric and Sookie moment: First, Sookie lets Eric into her bed after he has a dream in which Godric condemns him, and — swoon — she lets him sleep with her, and he wraps her arm around him and they spoon. The next day, Tara pours her heart out to Sookie about how her girlfriend back in New Orleans has found out her real identity, and Eric walks in. Tara freaks, yelling about all the bad things Eric has ever committed, and then runs off. Eric is ashamed of what he'd done and fears that he might hurt Sookie, and when he stalks off, Sookie chases after him and begs him to come back. And it happens: Sookie initiates a kiss, and you can sense all the feelings that have been building up between them. Sure, they kissed last season when Eric was his old self, but this is the real deal.
Worst ex-boyfriend interruption: The only thing that could mar Eric and Sookie's hook-up is Bill. In a rage over the corpse spell not being reversed, Pam admits that Eric had his memory erased by Marnie, and Bill makes Pam tell him where Eric is. Pam can barely get the word "Sookie's" out before Bill is gone, on his way to break up the beauty of the Eric/Sookie

lovin

'.
So, even though there weren't a ton of other exciting things happening with the other characters, all the hot Eric and Sookie amazingness caused me to die of happiness this week. I can't wait find out what happens when Bill gets to Sookie's and sees his ex-girlfriend in the arms of Eric Northman. What did you think of it all?
Photo courtesy of HBO