True Blood Season 4 Details
5 Things We Already Know About True Blood Season Four
Are you aware that the True Blood season premiere is a mere month away? The excitement has been heating up, but it reached a boiling point with the recently released photos from season four. But I know what you want besides pictures and previews: details. So gathering what we can from the pics and promos from the upcoming season, I've put together a list of a few things that we can expect when season four starts.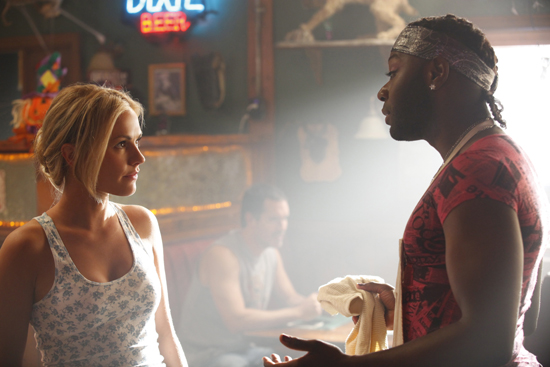 1) Eric has lost his memory. We had a sneak peek of a scene of Eric stumbling around, and then Alexander Skarsgard confirmed at PaleyFest that Eric has amnesia. Sexy, confused Eric? Still hot.
2) Tommy is still alive. At the end of season three, we saw an angry Sam go after his brother Tommy and then shoot at him, but the finale ended on a cliffhanger. From this picture, we know he survived (or is dead and making an appearance as a ghost, but let's err on the side of optimism, shall we?). Since Tommy turned against Sam at the end of the season, I wonder if he's going to keep making trouble for his brother, or if he'll straighten out.
To see the next three, just
.
3) Witches have invaded Bon Temps. Fiona Shaw joins the season as witch Marnie, and we've also viewed a scene of Bill and Eric discussing the new coven of witches. It's looking like witches will be to season four what werewolves were to season three, so gas up your broomsticks.
4) Bill won the fight with the vampire queen. It was obvious Bill would survive the fight he picked with Queen Sophie-Anne, because he's Bill, duh. And unless they went back on their agreement that the brawl was "to the death," then we have a great, bloody battle to look forward to in the season premiere. But will Sophie make it out alive? And if she doesn't, with Russell also gone, who's going to be the next big bad vampire leader?
5) Sam will get a new love interest. The sensitive shapeshifter has the worst luck when it comes to love (like a lot of people on this show), but this season, he may get to be happy for a while. His new sweetie is Luna, played by Janina Gavankar, though their bliss may be short-lived. As you can see from this clip, she's got some baggage in the form of a werewolf ex.
Of course, there will be so much more to look forward to in the fourth season. I can't wait to see where Sookie's romantic life goes, now that she's a swingin' single after kicking Bill to the curb (I'm split between Eric and Alcide). Plus, there are more than a few cliffhangers to be resolved, like Jason's new role as leader in the werepanther community of Hotshot, or what's up with the creepy baby doll in Jessica and Hoyt's new house. What are you looking forward to seeing most when True Blood comes back?
Photo courtesy of HBO