True Blood Season 4 Premiere Recap "She's Not There"
True Blood Bites: Season Four Premiere, "She's Not There"
True Blood is back! Season four returns with Sookie exploring her true lineage, but something is rotten in fairyland. For all the blood and sex that we've come to expect from this show, the premiere is surprisingly tame. But with an unexpected time lapse, there's still a lot to wrap your head around.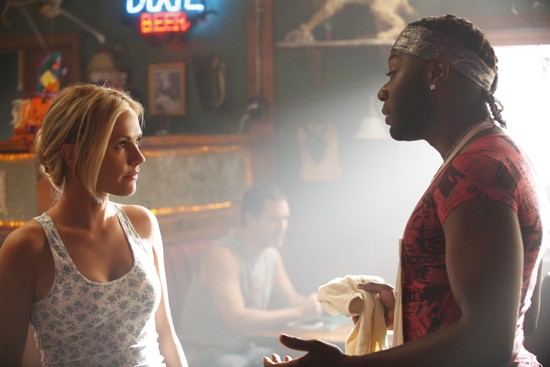 As un-bloody as this episode is, I'm still so psyched that True Blood has returned. Let's herald its Summer resurrection by recapping what happened this week when you
.
Most Misleading Magical Realm: The episode opens with Sookie in a beautiful, oddly-lit fairyland after she had taken Claudine's (her godmother) hand in the third season finale. Everything is pretty and idyllic — especially when Sookie spies her long-lost grandfather Earl. But when Sookie gets wise that the delicious fruit everyone is feasting on is a trap, she essentially starts a riot against Queen Mab, exposing the realm for what it is: a dark, dangerous, scary place. Claudine's brother manages to get Sookie and Earl back on earth, escaping Mab and her intent to harvest humans.
Most Surprising Time Jump: Unlike True Blood's previous season premieres, in which we pick up right after the finale, season four jumps forward. It's because Sookie has been in fairyland, and fairyland does not have time rules. What she thought was a few minutes was actually about a year. Cue Sookie arriving back at home to find her house sold, Jason a cop, and everyone else in town having moved on.
Most Changed Character: Tara has evolved the most in a year; she's got a new job as a cage fighter (so Ryan from The O.C.'s latter days), she's now in a serious relationship with another woman (fellow cage fighter Naomi), and she's going by "Toni." Even though she has relocated to New Orleans, her new life can't keep her away from her hometown when she finds out that Sookie is back.
Most Devoted Display of Commitment: Lafayette supports his boyfriend Jesus by attending his weird coven meetings. Jesus wants Lafayette to embrace his gifts; Lafayette would rather look cool with his new Mr. T haircut. Leading the group is Marnie, who seems to sense that Lafayette is special. In a coven breakthrough, it's Lafayette's presence that brings Marnie's deceased bird back from the dead.
Shortest Honeymoon Period: Jessica and Hoyt have been living together for a year, but they're already on the rocks. Not one for domesticity, Jessica doesn't cook for her man, and her man is getting tired of being her feast. They have an egg-tastic fight, but then make up over (bloody) drinks at Fangtasia, where Jessica flirts with another human guy, but resists going any further.
Least Evident New Parent Glow: Terry and Arlene now have a healthy, smart baby boy — who might just have the devil in him. Rene's progeny clearly worries Arlene more than Terry; when Arlene catches her tot tearing the heads of Barbie dolls, she gives him a talking to about how killing people is not cool. Hopefully that baby's not his father's son — for Arlene's fragile sanity, at least.
Most Drunken Support Group: Sam deals with the fallout of shooting Tommy with a new group — a shapeshifter group. They share, they drink, they shift together. One of the group members also catches Sam's eye: a beautiful shifter/teacher named Luna.
Most Ungracious Act: Jason has really become quite responsible; not only is he a big Bon Temps cop, he kept his promise to Crystal to look after the people of Hotshot. But when he brings a fresh supply of food to the townspeople, they betray him and toss him in an icebox.
Weirdest New Relationship: Tommy is alive! But, evidently, Sam did shoot him in the leg, and he's now paying for Tommy's physical therapy and attending anger management classes. But the oddest thing is Tommy's new attitude and arrangement; he's escorted by Maxine, Hoyt's mother; is he a surrogate for Hoyt now that he has abandoned his momma?
Most Surprising Monarch: Well, I guess we know who won the fight between Bill and the vampire queen. Bill shows up as a charismatic politician and also — in the episode's final reveal — Louisiana's vampire king. We find out because we see that one of the members of Lafayette and Jesus's new coven is reporting back to him about the witches' activity.
Best Real Estate Development: When Sookie comes back from fairyland, she has a rude homecoming: her house has been sold. The mystery buyer is some big corporation, Jason surmises, and they've made a lot of renovations on Gran's house. Sookie wants to see if they can give the buyer their money back, but the buyer is not really the best negotiator: it's Eric, and he has purchased the house so that he can always come in. Oh, and he'd like to have the same privileges with Sookie, he implies as he bares his fangs and the episode ends.
So how did you feel about the premiere? After a whole year of its absence, was the return everything you hoped it would be? Chat with me in the comments, and make sure you come back to discuss each episode the rest of the season!
Photo courtesy of HBO