True Blood Season Finale Recap, "And When I Die"
True Blood Bites: "And When I Die"
Wow. The season four finale of True Blood is slow going at first, but the final moments both knocked the wind out of me and left me speechless. Halloween comes to Bon Temps, and the holiday brings with it a whole slew of events that are a lot scarier than Arlene and Terry's zombie makeup. The residents are visited by plenty of blasts from the past (and the implication of yet another one), and by the end of the episode, a handful of major characters join the ranks of the dead.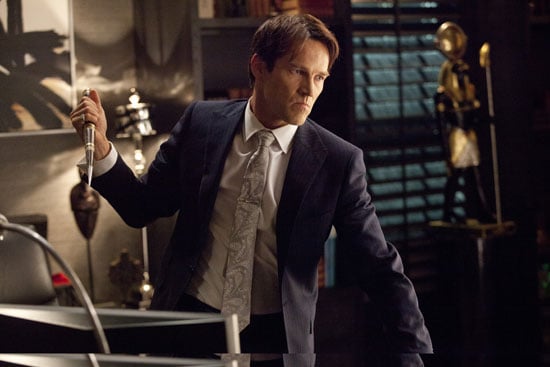 I'm admittedly a bit irritated that there's no progress on the fairy front since we've been waiting all season long to see what that whole business in the premiere is about, but there's certainly plenty of setup for next year's stories. I can't wait to share my thoughts with you and hear yours, so beware the spoilers when you
.
Worst table manners: Marnie doesn't exactly do a great

Lafayette

imitation, and she stabs Jesus with a fork on the first chance she gets. It only gets worse from there, as she ties Jesus to a chair and demands that he give her his magic powers. Unfortunately, you can't just trade powers "like Pokemon cards" (guess it's still the late '90s in Bon Temps), and Jesus sacrifices himself in hopes of saving Lafayette, allowing Marnie to take his Latin voodoo by drinking his blood. Yum.
Most decent proposal: Now that Debbie is out of the picture, Alcide rebounds by trying get into Sookie's heart. He lays it out for her at Merlotte's, but Sookie's not interested in a business-like partnership when it comes to her feelings — even though Alcide promises a drama-free relationship through his puppy dog big werewolf eyes. It feels a bit like Sookie is denying the obvious chemistry she's been having with Alcide all this time, but maybe she just needs time to think it over. Are you rooting for these two to finally hook up next season?
Best night of the living dead: Marnie wastes no time turning Bill and Eric into a shirtless vampire-kebab, but Tara, Holly, and Sookie coming storming in to save the day. Thanks to Holly's Wiccan first aid kid, the ladies raise the dead to come to their rescue. Most notably, Antonia and Gran arrive to knock some sense into Marnie, after the witch drones on and on yet again about how nobody appreciates her. Thankfully, it's all over quickly as Marnie finally takes off and Bill and Eric are released.
Hottest new guy: As promised, Scott Foley arrives at Merlotte's, as one of Terry's long-lost Marine friends. It's no wonder that Foley had no problem balancing True Blood with Grey's Anatomy, as he only gets a very short scene that reveals that Terry once saved his life. It sounds like we can expect a lot more from him though: Rene rises from the grave to warn Arlene about the "ghost of Terry's past." Let the speculation begin, my friends.
Most anticlimactic moment: After Sookie has a ménage à trois (or her blood does, anyway) with Bill and Eric, it's decision-making time. Two vampires. Both of them hot. Both of them wearing identical robes. So what's a fairy to do? She chooses neither. We all saw it coming, but it's still pretty lame.
Most ominous performance by a parking lot: Alcide gets a mysterious phone call and is called to a parking garage, where he finds a hole in the cement and some chains. In real life this could mean a few things, but on True Blood it can only mean one: the former vampire king has returned. And he's probably pissed off.
Sexiest duo: Who needs Sookie when you can have Bill and Eric working together? When Nan Flanagan comes into Bill's office to convince the vampires to help her rebel against the American Vampire League, Bill and Eric take about ten seconds before they wipe out Flanagan and her team of armed guards in one fell swoop. Not only is it fun to see them working together, but their banter has never been better (exhibit A: "I liked you better when you were brain damaged").
The TMI award goes to: Jason Stackhouse! Jason decides to come clean with Hoyt, but the adorably dim guy gets a little too graphic with the details, recounting all the positions he and Jessica did it in. Hoyt reacts with punches and harsh words (can't really blame the guy), particularly in telling Jason that he's missing something inside. Luckily, Jessica is there to lick his wounds, though she tells Jason that she's not ready to commit to a relationship because she's afraid she'll hurt him. Just when Jason's bad day begins to perk up thanks to some sweet post-coital moments with his little red riding hood, he gets a very unexpected visitor. Reverend Newlin comes knocking at Jason's door, showing off his pearly white fangs.
Best best friend: I guess I should have figured that Tara was doomed as soon as she mentioned growing old with Sookie on the porch. After a long night of taking Marnie down and tucking Lafayette into bed, Tara becomes a "magnet for f*cking craziness" one last time. When Debbie Pelt comes looking for Sookie equipped with a rifle, Tara takes a bullet for her best friend — and from the looks of it, she's a goner. At least her death wasn't in vain: Sookie seizes the gun and (possibly inadvertently) shoots Debbie in the face. I'll sleep better tonight knowing that Debbie is finally gone for good, but I'm going to miss Tara.
How did you feel about the way the season wrapped up? Do you think Sookie will get away with murder? Is the reverend going to try to turn Jason? And will Eric band with Bill long enough to take down Russell yet again? Let's get talking in the comments!
Photo courtesy of HBO