True Blood Season Five Recap
True Blood Bites: Season Five Premiere "TURN! TURN! TURN!"
True Blood is back in a big way! For the season five premiere, we get sex, blood, naked Alexander Skarsgard, and at least one shocking development. We pick up exactly where we left off last season, and I mean exactly — Bill and Eric are still cleaning up Nan Flanagan's guts, and there's a little retread of Sookie's final moments with Tara. Even though there are a few new characters, we only meet a couple of them, but I'm dying to talk about one thing in particular.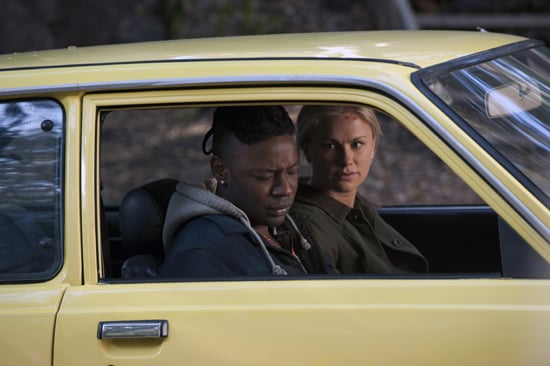 Ready to get to all the bloody goodness? Just read more.
Best character development: So that's how Tara will stay on the show — she's a vampire!

Lafayette

and Sookie are so consumed with grief that they devise a solution to save her: have Pam turn her into a vampire. Pam agrees, as long as Sookie makes Eric forgive her and owes her a favor. However, she makes an excellent point about Tara's head being blown off and that maybe not boding well for her mental stability when she wakes up. She may have been right, because vampire Tara seems pretty crazypants — even for a newborn — when she bursts out of the ground and attacks Sookie. Either way, Pam's burial sweat suit cracked me up.
Most inspiring coming-out scene: The now-vampire Reverend Newlin hits up Jason, and before you can say "liar," he glamours his way right into Jason's house to tell him that he's gay and he loves him. He can't glamour himself into his heart, though, and as soon as he flashes his fangs, Jessica shows up to declare Jason hers.
Best do: I'm so glad that Lafayette spies a razor in the bath and doesn't hurt himself with it — he just shaves his head. Everything is so sad for him this week: he's just lost his boyfriend (by his own possessed hand), then he's dealing with Tara's death. And to make matters worse, Jesus's body is missing. Uh-oh.
Least appetizing funeral rite: Evil werewolf Marcus is dead and gone, but his pack wants some answers about who killed him. A supersexy, supernude weregirl takes Sam in to be tortured, where Marcus's mother, Martha, explains that they just want the body for a special werewolf death ritual. Sam obliges, and then we have to see the practice, which is apparently chowing down on the deceased's intestines like Kibbles 'n Bits.
Best Animal House imitation: Jessica is acting like the teenager she is, and hosts a party at Bill's house full of college kids and drinking games. Jason crashes and gets in on the fun, but he's mostly there because he's jealous. Who is this man? This dude who likes a girl so much that he rejects the PYT who's ready to throw down right then and there? I feel for the guy, though — he's so sweet with his affection for Jessica, and I also feel bad for him when Hoyt and his buddies are mean to him at Merlotte's.
Dumbest confession: This episode has a lot of Alcide, which means there's a lot to be thankful for. He acknowledges that his romantic proposition to Sookie might make her feel weird, but he still wants her to come live with him because Russell is alive and "on the loose." She almost confesses that she shot Debbie before Lafayette stops her, and Alcide goes on his merry way . . . to admit that he killed Marcus to a pack full of vengeful werewolves. This can't be good.
Most boring subplot: I love Scott Foley and all, but I could not be less interested in his character Patrick's story line. It's treated as very mysterious — we learn that fires destroyed all the homes of Patrick's and Terry's platoons, which Patrick doesn't think is a coincidence. Maybe this'll be more interesting next week.
Weirdest family reunion: Eric and Bill are in big trouble for killing Nan, and they're apprehended by a pair of authorities. One of them goes turncoat and kills her partner, and Eric recognizes her as Nora. He goes in for a superhot, steamy kiss, which is immediately made less sexy when he says that Nora is his sister. Eeeew. Fine, they're only siblings in the way that vampires who have the same maker are siblings, but it's still pretty confusing to my world. Especially when they get it on hardcore later in the storage container that's supposed to be hiding Eric and Bill. All of Nora's efforts are for naught, because the guys get apprehended at the end of the episode before they can run away and start new lives. This is the Vampire Authority, I presume?
What did you think of the True Blood season premiere?