True Blood Season Four Sneak Peek Video
Watch the First 3 Minutes of True Blood Season 4!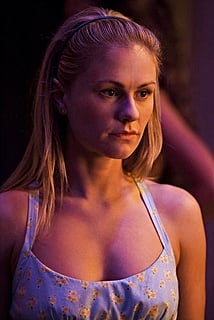 True Blood season four is almost here, so get ready for Sookie in fairyland! The first three and a half minutes of the premiere landed on the Internet this morning, and it shows our heroine arriving in the magical new location with the guidance of her fairy godmother. Yes, really. Once she gets there, Sookie's surprised to find a few familiar faces in the crowd, but as with everything in True Blood, this heavenly scene probably isn't everything that it seems. There's no Eric, Alcide, or Bill, sadly, but there is a glimpse at Sookie's grandfather Earl, who shared her telepathic abilities, played by Gary Cole. Judging by this clip, the teaser trailers, and the new True Blood posters, it looks like this season is all about showing your "true colors," but what will that mean for our favorite damsel in distress?
Let us know what you think in the comments and to watch the clip, just
.