True Blood Sneak Peek Video From the Set Featuring Sookie, Eric, Bill, and Alcide
New True Blood Clip Reveals New Characters, Secrets!
Ready for your juiciest peek at True Blood's season three yet? They've kept us salivating until Summer's premiere with new minisodes, hot photos, and behind-the-scenes teasers, but this latest video from the set is like a reward for all the patience we've had to exercise. Series creator Alan Ball introduces the video, with our old beloved characters talking about where they pick up when the season begins, and as nice as it is to see them, it's all about catching a glimpse of the new characters in costume.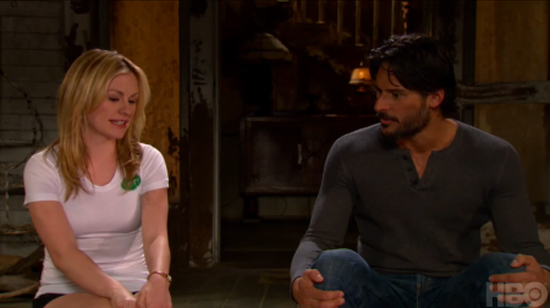 Most exciting (for me anyway) is seeing Joe Manganiello as Alcide, but he's only one of many new faces. Watch now for an eyeful of scenes from upcoming episodes, love interests for Tara, Lafayette, and Jason — and some wolfy new cast members!
To see it, just
.