True Grit Movie Review Starring Jeff Bridges, Matt Damon and Directed by the Coen Bros.
True Grit: How a Western Is Won
Ethan and Joel Coen's latest, True Grit, isn't another edgy, idiosyncratic drama from the film-making brothers, but an adaptation of the 1968 novel and update of the 1969 movie starring John Wayne. In Wayne's Oscar-winning role of Rooster Cogburn is Jeff Bridges, who is approaching his own legendary status. Hailee Steinfeld is equally important to the film, as the movie's heroine, 14-year-old Mattie Ross.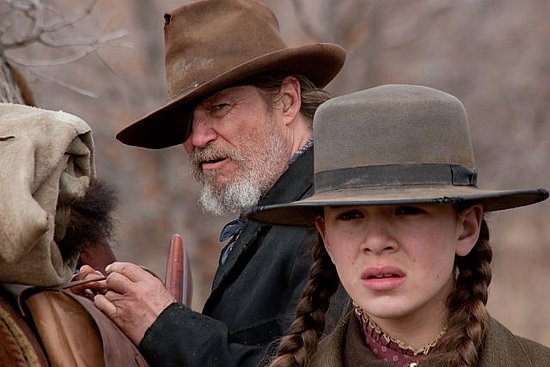 Mattie is on a quest to avenge her father's death at the hands of the cowardly Tom Chaney (Josh Brolin), and she leaves her family to find a marshal worthy of her hunt. She finds what she's looking for in Cogburn, despite the fact that he's a grizzled, whiskey-soaked curmudgeon. Also in the picture is Texas Ranger LaBoeuf, played to ostentatious perfection by Matt Damon. LaBoeuf is an opponent to Mattie at first — he's also pursuing Chaney, but on a different charge. Cogburn and LaBoeuf team up to find Chaney together, conspiring to leave Mattie behind, sure that a "little girl" will only handicap them.
Riding off into the wilderness with Mattie, Cogburn, and LaBoeuf gives us the bulk of the action, and on that ride it becomes clear: the Coen brothers aren't trying to reinvent anything; this is a true Western, faithful to the book and genre. It's a sweeping accomplishment with a satisfying outcome. To find out what else I enjoyed about True Grit, just read more.
The movie's cast is superb; Bridges is fantastic, and though his characterization of Cogburn is so big he's almost guilty of chewing the scenery, he's totally entertaining. But Damon nearly outdoes him as the pretty boy LaBoeuf. I worried that Damon would be out of his element in those spurs and fringe, but he's priceless, and fits right in.
Of course, it's Steinfeld's Mattie that the movie rests on considerably. SAG award nominee Steinfeld is able to project Mattie's plucky precociousness while letting some of her childlike naivete show through. She's the one with the true grit, it seems; from the scene where she rides her horse into a river to keep up with Cogburn and LaBoeuf to the final showdown with Chaney, Mattie becomes the equal to her male companions.
Fans of the Coen brothers will find fewer quirks than what you'd expect from the directors, but those little touches are still there (one particularly gruesome scene is decidedly Coen-esque). But in truth, this is a flick for the Western fan — it's a wild, sometimes funny, and consistently great story.