Tweets About Grey Worm and Missandei's Sex Scene
15 People Who Lost It Over Grey Worm and Missandei's Steamy Game of Thrones Scene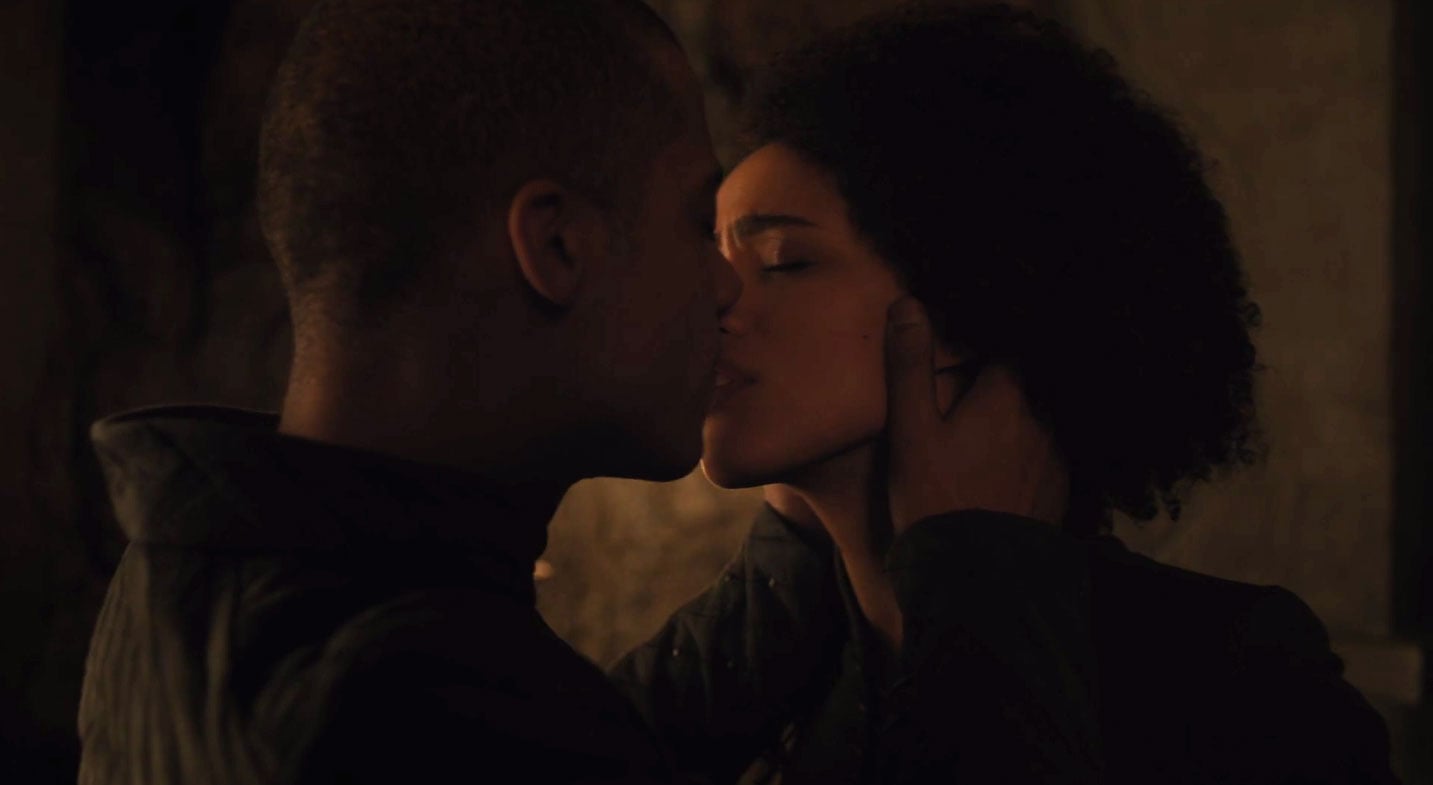 Warning: Game of Thrones spoilers below!
If you were watching Game of Thrones on Sunday night with your parents, my deepest condolences. The action-packed second episode of season seven features one of the fantasy drama's steamiest (as well as most empowering and consensual) sex scenes yet, but also raises more than a few questions. Missandei and Grey Worm, played by Nathalie Emmanuel and Jacob Anderson, finally cut the sexual tension that's been brewing between them for two seasons now, consummating their relationship just before the Unsullied soldier leaves Dragonstone for a dangerous mission to Casterly Rock.
It's a hot scene, to be sure, with Missandei taking control and undressing both of them before Grey Worm goes down on her (all of which happens after he delivers one hell of a romantic monologue about his love for her). Of course, it did make a few fans wonder exactly what Grey Worm is working with down there, if you catch my drift, since all of the Unsullied are eunuchs. Naturally their hookup brought out a mix of hilarious reactions on Twitter.
"I want to see you......" #gameofthrones #GameOfThones7 pic.twitter.com/pyqY0vtOMl

— Clayton Licciardello (@YouGotOwned175) July 24, 2017
Grey Worm telling Missandei she is his weakness and that he loves her #GoTS7 pic.twitter.com/8gtx9d5C35

— Dany (@daenerysxstrom) July 24, 2017
They better let Grey Worm and Missandei show off this black love in Westeros. #ThronesYall pic.twitter.com/bsj6Wu9t7g

— Matthew A. Cherry (@MatthewACherry) July 24, 2017
Missandei knows 19 tongues; Grey Worm only has to use one. #GoTS7

— Septa Nastane (@alysonmiers) July 24, 2017
When Grey Worm went down on Missandei 😩😩😩😩😩 #GameOfThrones pic.twitter.com/w44HGT5CEi

— جوانا (@juanalacubana18) July 24, 2017
Grey worm and Missandei be like #gots7 #GoTSeason7 pic.twitter.com/c1DtTnkvTF

— Renzo Santa María (@RenzoSMN) July 24, 2017
Greyworm and Missandei #gameofthrones pic.twitter.com/llyIwu1oz1

— Yung Retro (@so_rudez) July 24, 2017
Missandei didn't even have to ask "what that mouf do?" in High Valyrian. Grey Worm knew the tongue is mightier than the sword #GameOfThrones

— Areola Papi (@VeeCanGetIt) July 24, 2017
#GameOfThrones #GameofThrones7 #Thronesyall

Missandei: I want to see you.

Greyworm: pic.twitter.com/q0ilyXH1li

— THC (@SinrOne) July 24, 2017
Greyworm walking out of Missandei's room like... #GameOfThrones pic.twitter.com/zdC9p0rq4i

— Austin (@AustinCTweets) July 24, 2017
#Greyworm diving into missandei after waiting seasons... #ThronesYall pic.twitter.com/qFQrxZ71cD

— Wuan (@EmeraldThumb) July 24, 2017
If Grey Worm and Missandei don't end up alive and together by the end of this, I'm pitching a fit #GameOfThrones

— black and proud. (@grob_313) July 24, 2017
When GreyWorm and Missandei are in a room together #GameOfThrones #ThronesYall pic.twitter.com/vq0leIRrwL

— Rashaun Fraser (@Speede_e) July 24, 2017
I ship Missandei and Grey Worm so much #GameOfThrones pic.twitter.com/QcdzGRZk1t

— Mai (@maichanTV) July 24, 2017
"I was bravest, always…Until I meet Missandei from the isle of Naath. Now I have fear."

Greyworm kicked me square in the feels #GoTS7

— LENNOX22 (@LENNOX22) July 24, 2017