Twilight Breaking Dawn Soundtrack Full List of Songs
Check Out the Breaking Dawn Soundtrack List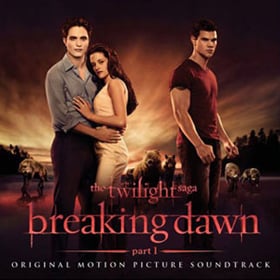 The official track listing and album art for the Breaking Dawn soundtrack are here! As is custom for the Twilight movies, the soundtrack is full of up-and-coming indie artists like The Joy Formidable, Theophilus London, and Noisettes, and there's also an appearance from pop star Bruno Mars. Fans of the original Twilight film will be happy to see that Iron & Wine's "Flightless Bird, American Mouth" — aka Edward and Bella's prom slow-dance song — is also here, but updated into a wedding version, an idea I kind of love. Cast member Mia Maestro also contributes a track. The songs aren't available to listen to quite yet, but check out the full list of songs after the jump.
The Joy Formidable, "Endtapes"
Angus & Julia Stone, "Love Will Take You"
Bruno Mars, "It Will Rain
Sleeping At Last, "Turning Page"
The Features, "From Now On"
Christina Perri, "A Thousand Years"
Theophilus London, "Neighbors"
The Belle Brigade, "I Didn't Mean It"
Noisettes, "Sister Rosetta" (2011 Version)
Cider Sky, "Northern Lights"
Iron & Wine, "Flightless Bird, American Mouth" (Wedding Version)
Imperial Mammoth, "Requiem On Water"
Aqualung & Lucy Schwartz, "Cold"
Mia Maestro, "Llovera"
Carter Burwell, "Love Death Birth"