The Vampire Diaries Panel at Comic-Con
Shirtless Damon and More Season 3 Teases From The Vampire Diaries Comic-Con Panel
The cast of The Vampire Diaries were greeted with cheers (and a few love confessions for Ian Somerhalder) at Comic-Con this week. Somerhalder was joined by Nina Dobrev, Paul Wesley, Candice Accola, Joseph Morgan (who plays Klaus), and creators Kevin Williamson and Julie Plec to answer questions, tease season three, and discuss one of the hottest love triangles on television. Somerhalder stole the show with one-liners about getting Fabio to guest star and how Caroline and Tyler should make werewolf/vampire "puppies", but all of the cast members had their own moments to shine. Here are highlights: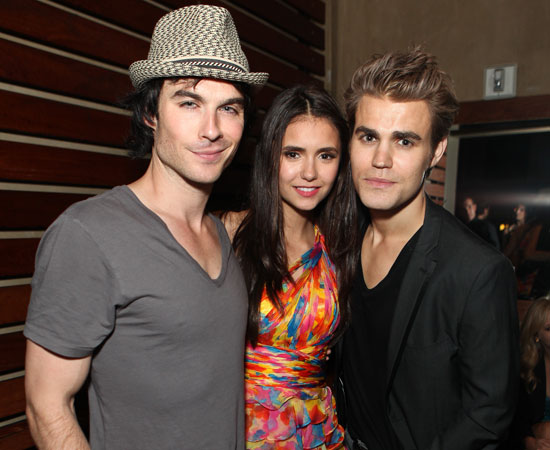 The panel was pretty tight-lipped on what we can expect from season three; the only footage we were treated two was a very quick clip of Damon sneaking up on Elena . . . but it was worth it because he all he was wearing was his birthday suit and signature grin.
Of course, the question on everyone's mind was whether or not Damon and Elena will finally get together in season three. Though the two characters shared a kiss in the season finale, don't expect them to be going to steady right away. The panel made it clear that Elena won't be running straight into Damon's arms because there are two many things in the way. However, they did mention that it's "going to take a lot of twists and turns," which sounds to me like Delena fans may get their due in time.
When asked about all of the character deaths, Wesley remarked that "every character on the show has died one time or another," while Somerhalder added, "Jeremy has died about four times." Meanwhile, Plec admitted that she gets a lot of hate mail for killing off Mason Lockwood, which prompted Wesley to say, "I sent you hate mail. He was hot."
To see what else is to come in season three and why everyone wants to play Klaus, just read more.
One thing we did learn about next season is that Elijah will be back, and needless to say, he won't be very happy about how things have turned out for him.
Wesley is excited to explore more of Stefan's bad boy "ripper" side. He said, "As an actor we want to try different things. Stefan is noble and heroic but I think he needs to be multidimensional."
Dobrev fielded a lot of questions about her dual role, but she made it clear that she doesn't play favorites between Katherine and Elena, saying "I get the best of both worlds. I get to be the bad girl, and I get to be the good girl and I get to do flashbacks and bite people. They're both so much fun, so it's awesome. I can't really pick one or another. They will kill me one day because it's a lot of hard work for sure, but it's really cool."
Dobrev also said that she's a little bit of both Katherine and Elena: "I can get away with a lot more when I'm Katherine on set, but I actually learned and discovered a lot about myself playing these two characters. I feel like I grew up with these characters. I'm learning a lot from them and I'm learning from their mistakes . . . I started off more like Elena but as I'm growing up I've become more like Katherine. It's given me a little more confidence, I'm more comfortable. And I can walk in heels really well!"
Dobrev also chooses to pick Team Damon or Team Stefan, mostly out of fear of alienating her fans. When asked to choose, she replied, "The problem is half of this room will get so mad at me if I say one and the other half will be so mad if I say the other . . . the beauty of the situation is that I don't have to choose. Do you see what I mean? Katherine had it right." Paul Wesley added, "Sharing is caring."
One of the most fun parts of the panel was when the cast was asked which character they'd like to play besides their own:
Morgan: "I'd like to play Damon because of all the attention he's getting. That looks like a lot of fun."
Somerhalder: "It most certainly can be."


Dobrev: "I'd want to be Klaus. The biggest, baddest vampire of all time, before he came along, that's what Katherine was."
Morgan: "Hybrid. The biggest baddest hybrid."

Somerhalder: "Klaus, because Damon always thought he was the biggest badass around and then this idiot shows up and wreaks havoc."
Wesley: "I just want to be Klaus with a really bad accent."

Accola: "I like being Caroline!"
Somerhalder: "I change my answer to Caroline."

Somerhalder played it coy when asked what he'd change about Damon if he could (he was sitting between the show's creators, after all), but did share this: "I wouldn't change a damn thing about Damon Salvatore. They've created these super dynamic, very complex individuals. If you go into your own experiences, past, present, and future, all of a sudden you have real stuff and real scenes that actually mean something to you, and you're going through this ride with this character. It's really a profound thing."