The Vampire Diaries Recap "Because the Night"
The Vampire Diaries "Because the Night": The Good, the Bad, and the Bloody
We are off to the Big Apple in this week's episode of The Vampire Diaries, as Damon has decided that a trip to New York City is exactly what rebellious young vampire Elena needs. The thought is that she can have fun, relax, and eat someone in a city that won't notice one of its millions dead. We also get a '70s flashback, an awesome romantic revelation, and a game-changing act initiated by Bonnie.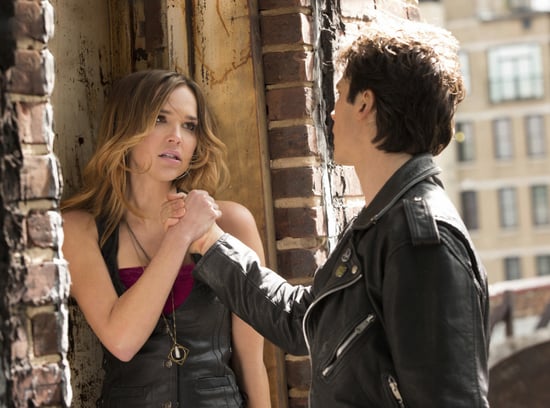 Lots of things go wrong this week, including said NYC vacation. Silas is in town wreaking havoc, Klaus and Caroline are snarking at each other, and once again, the cure is on everyone's mind. Let's break it all down into the good, the bad, and the bloody after the jump.
The Good
Damon and Elena's trip to NYC comes with the bonus of a flashback to Damon's days in the city in the 1970s (punk Damon looks basically the same; his leather jackets just have slightly different lapels). He takes Elena to his old haunt, Billy's, where he helped the club owner provide fake IDs to clients in exchange for feeding. Back then, Lexi had gone to find him, knowing his humanity "switch was flipped." She helped him then, and Elena guesses that Damon is intending to do that to her. Damon is also on a research trip on the hunt for Katherine and the cure, which attracts one party-crasher: Rebekah, who wants that cure too.
My absolute favorite thing about this episode is finding out that Damon loved Lexi. . . . and then finding out it was all a game. Damon faked being in love with Lexi to punish her for trying to "fix" him, and then almost kills her (murder by sunlight). Now it makes so much sense why she disliked him so much when she came to Mystic Falls in the first season. It makes even more sense why Damon killed her then — she was a reminder of all the bad things he had done in his life.
After Damon finds Katherine's info in the club's office (she had been one of the clients who needed constant new identities), Elena tries to snag the info with the promise of rooftop sex. Damon is on to her and promises that she will get that cure, even if he has to force-feed it to her. Rebekah interrupts, which gets Elena to agree that they can work together to find the cure. I love Rebekah and Elena Thelma-and-Louiseing away in Damon's stolen car.
I like this new group of Stefan, Caroline, and Klaus working together to find Silas, who Stefan believes is in Mystic Falls. He's right — Silas is there, with Bonnie, and not only that: Bonnie knows he's Silas. Stefan and the crew discover that Silas is trying to get Bonnie to use an expression triangle, which involves Bonnie having to kill witches.
Bonnie sends for her mom, but another witch named Asia shows up — with reinforcements. She brings 11 witches, which, yes, makes 12 — the number of people Silas needs to sacrifice. The coven tries to "cleanse" Bonnie, but Stefan interrupts to tell the witches that Bonnie is playing them. The witch decides that in that case, Bonnie must die. Against Klaus's advice, Caroline intercedes, and all the witches die, achieving Silas's sacrifice. I mean, she knew this was going to happen. Worse, Bonnie wakes up with creepy white snake eyes.
Klaus and Caroline, quit playing games with my heart: they flirt while they research in the office, but it doesn't last long. Walking through the forest, they have a thinly veiled conversation during which Klaus wants her to admit that she liked that he liked her, and she counters with saying he's just terrible. She pretty much deserves that "why don't you find someone less terrible" for comfort speech when she grapples with having killed 12 people.
Klaus comes face to (sort of) face with Silas, who thanks him for the sacrifice. He only needs the cure now, and he offers Klaus the opportunity to live, and Klaus pretty much laughs in his face — until Silas brandishes the white oak stake, the one thing that scares Klaus. He breaks it off inside Klaus, and I'm confused about what this means — is he half-dead? Can he even . . . move? Man, Silas is pretty bad, I guess.
The Bad
Poor Bonnie. She has no memory of the sacrifice when she wakes up, and she confesses to Stefan that she can't remember anything past being in the cave with Jeremy. She has to suffer through the Jeremy death news again? Double grief.
The Bloody
This week is educational: Now we know what a vampire three-way looks like. Well, a vampire feeding three-way, anyway. It's creepy.
What did you think of this week's episode?