The Vampire Diaries Recap "The Birthday" Season 3 Premiere
The Vampire Diaries "The Birthday": The Good, the Bad, and the Bloody
The Vampire Diaries is back! The series marked its return with a birthday party, a highly anticipated sex scene, and a sadistic new personality for Stefan. While Elena and Damon are left in Mystic Falls, Stefan is off gallivanting as Klaus's puppet, partying it up and dismembering the occasional Southern belle.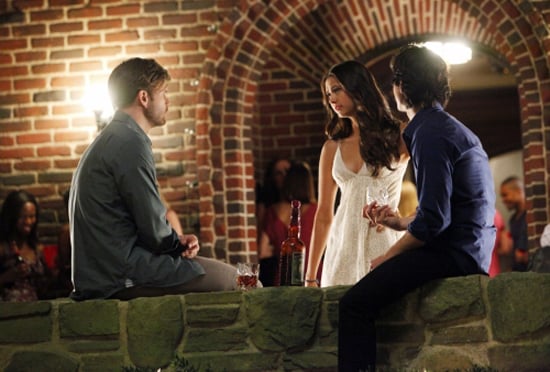 While we didn't get to see much heat between Damon and Elena (aside from a jealousy-inducing bubble bath scene), the premiere episode set up and even gave us a cliffhanger and a couple brief moments of emotion. To talk about it all, just check out the good, the bad, and the bloody after the jump.
The Good
Almost as scary as Klaus haunting the Southern countryside is his American accent. On the hunt for a man named Ray Sutton (7th Heaven's David Gallagher) in Tennessee, he and Stefan terrorize a couple of innocent girls before they find Ray, a werewolf Klaus has deemed special. After some barroom torture, Klaus goes about turning Ray into a hybrid by feeding him blood, and then killing him. It's time that I admit that Gallagher looks pretty smokin' all grown-up, and I'm glad that it seems like he'll be around for a bit longer in Klaus's hybrid army.
Thank you, Vampire Diaries: Damon goes to grab some more champagne totally naked except for some bubbles from his bath. These are the kind of scenes "The Good" category was made for, people.
It's Elena's 18th birthday, but she's bummed about Stefan being gone and preoccupied with her hunt for him. That can't keep Caroline from planning a birthday party for her, though. Don't Elena and Damon look adorable and so couple-y striding through the party? She's not exactly pleased to see the rager that's formed at Damon's house, and later, to escape it all, she finds something Damon has been hiding: a collection of news clippings detailing Stefan's dirty deeds. When she confronts him about it, Damon tells her the truth and breaks the news: Stefan has "flipped the switch" and has been piling up bodies.
Stefan has flipped the switch indeed; he targets Andy at the news station and lures Damon there. Stefan's found, but he explains to Damon that he doesn't need saving. To drive home the point of how ruthless he is now, he puts Andy on a ledge and then lets her jump to her death. It's weird seeing Stefan's violent side, but it's even weirder seeing Damon look genuinely pained over Andy's death. Guess she grew to be more than his "fake compelled girlfriend."
Jeremy is still seeing dead people, and now that he's working at Mystic Grill, he sees Anna and Vicki during his work day. He's driven to smoking weed again (um, Jeremy? Drugs aren't the best way to go if you're trying to stop seeing things), and he tries to confide in Matt, but Matt doesn't really get it.
Caroline and Tyler finally get it on! They giddily dismiss the idea that they're dating as "crazy," and then admit to each other that their respective supernatural desires are making them crazy. We all know what comes next: their obvious attraction plus booze at the party has them making out, which leads into one of the greatest vampire/werewolf sex scenes ever. But someone should have told Caroline it's rude to just slip out after a hookup. Mrs. Lockwood really drives that point in when she shoots her with wooden bullets.
Guess Stefan hasn't totally gone to the dark side — he calls Elena, but doesn't speak. She senses it's him and says she loves him, and asks him to never let it go. He nods on the other end of the line, showing us that good Stefan is in there somewhere.
The Bad
While I'm glad that Alaric didn't get killed last season, I'm wondering what's going to happen with his character now that Jenna's gone. It's promising that he's a sort of temporary guardian for Elena and Jeremy, but then he cops to not being able to handle it. Will he get a juicy storyline or is the time of Alaric over?
The Bloody
The Ripper is back, y'all. The girls he kills in Memphis seem like they have a pretty quick death, but when Damon investigates, he finds that Stefan has put his "signature" on them — by putting the bodies back together. One girl's head falls off. Because he's ripped her apart. Get it — ripped? The Ripper! It's so simple, so honest.
Continuing his new habit of being totally gross now, Stefan engages in little sports like throwing darts at Ray's face. For someone who's professing to not enjoy his new station in life, he's sure creative.
So what did you think of The Vampire Diaries season three premiere? I was hoping for a little more action, but I have to say I was too pleased by the whole Tyler/Caroline development to really complain. Tell me what you thought in the comments below!
Photo courtesy of The CW