The Vampire Diaries Recap "Break on Through"
The Vampire Diaries "Break on Through": The Good, the Bad, and the Bloody
Like last week, this week's episode of The Vampire Diaries is pretty underwhelming again, and again, I blame the lack of Klaus. Where is he hiding? The episode instead focuses on Alaric and his uncontrollable urge to kill innocent people, and Damon's old pal Sage, who's on the hunt for her old flame, original vampire Finn.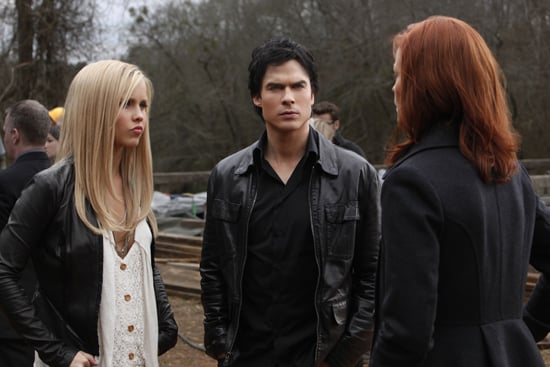 There's not so much excitement this week, except for one extended, and very memorable Damon shower scene (which obviously makes the good category of the week), so let's get down to talking about the good, the blood, and the bloody after the jump.
The Good
Alaric's a confirmed psycho-killer, but the poor guy can't seem to do anything to stop himself, even though he's aware of his actions now. Through Samantha Gilbert's records, we learn that she continued to attack people even without her ring, so stripping Alaric of his ring doesn't do anything to keep him from going after Meredith Fell, who's trying to help him out. Stefan and Elena find a bloodied Meredith after Alaric stabs her, but all hope is not lost for Elena's only parental figure — Bonnie's mother Abby thinks she can reverse Alaric's condition with a spell. It looks like he may be OK — as long as he obeys the house arrest he's been put on.
Damon's "blast from the past" Sage shows up in Mystic Falls, because Klaus and Rebekah's brother Finn is her one true love, and girlfriend's feeling romantic. She'll pretty much do anything for him, and she's immediately suspicious that Rebekah is up to something when she gets to town. She pimps Damon out to seduce Rebekah, and they have a weird little three-way party where they get drunk until Damon and Rebekah hook up. Using some weird voodoo in which she can get information about Rebekah by making out with Damon in the shower (dear Damon, I also have some questions about some stuff), she learns that Rebekah is researching the white oak tree.
Damon spends quite a lot of time either in the shower naked, or just wearing a towel post-rinse. Thank you, Vampire Diaries writers. Thank you very much.
Jeremy! We see Elena's sort-of little brother again when Elena calls him because she misses him. He appears happy and healthy and unbitten, but it seems pretty obvious that the next time we'll see Jeremy, it'll be back in Mystic Falls. And hopefully Alaric is cured by then, because it seems that Jeremy's name is on Alaric's little hit list.
The Wickery Bridge is like the breakout character of the season. It's been getting lots of play: not only is it the place where Elena's parents had their fatal car crash, it's now apparently a weapon. When Rebekah and Sage learn that the spooky white oak tree that can kill originals was used to build the bridge, Sage lets Rebekah burn it down, fearing for Finn's life now that she knows if one original dies, they all die. But the bridge lives on: Damon has the sign, and he's ready to make it into stakes to kill the originals.
The Bad
Why do vampires always let loose by getting drunk and dancing in the most embarrassing way? Sage and Damon's little rock-out session is awkward for more than the fact that they're putting on a show for Rebekah. Oh well, whatever relaxes you, I guess.
Even though a lot of this episode features Abby as a new vampire, it's the weakest storyline, and I'm sorry to say that I just don't care about it. We haven't known Abby long enough to be invested in her, and the fact that she's writing a goodbye note to skip town makes me glad I didn't get invested.
The Bloody
The extreme close-up of Meredith's wound is chilling, and there's something about that whole sequence that's creepy since for once, the attacker is human. I've had enough of Alaric with the crazy eyes, thank you very much.
Rebekah and Damon's simultaneous feasting on the piano player is freaky, you guys. Especially since it essentially gets them all heated up to get it on later.
What did you think of this week's episode? Are you as frustrated as I am that Klaus hasn't been seen in two episodes? Let me know what you think in the comments.
Photo courtesy of The CW