The Vampire Diaries Recap "Bring It On"
The Vampire Diaries "Bring It On": The Good, the Bad, and the Bloody
The Vampire Diaries is back this week with some vampire rebellion, as Elena gets to be a bad girl after her feelings are turned off. While she's busy with her rampant feeding, dancing, and making everyone uncomfortable, Stefan and Caroline worry about her behavior, and Damon is looking for clues about Katherine's whereabouts.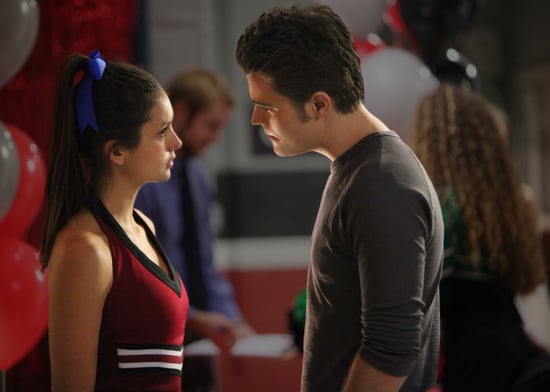 We get a surprising dose of steaminess from someone who's waited a very long time for some action — Klaus! However, I do have some mixed feelings about it. Let's get down to that, plus the other good, bad, and bloody after the jump.
The Good
After Damon's request that she stop feeling, Elena goes girl-ripper and starts eating people with abandon, running her sassy mouth, and walking around naked (because everyone is showering at the Salvatore house now). Cheerleader Elena is even back in action, doing herkies and biting into the competition. When she deliberately drops Caroline after having too much of her BFF's lectures, Stefan and Caroline decide they need to rein her in. It's Elena like we've never seen her before — or is it? Because she looks very much like Katherine to me.
Turns out the sire bond isn't working, because Elena's feelings are related to the power of the bond. Stefan takes charge in keeping her under control by vervaining her, but she can't be controlled. Vampires always love a good party, so Elena throws a big one at the Salvatores' (to the tune of pop culture's current rebellion anthem "I Love It" by Icona Pop). I kind of love Elena's funny forthrightness about how good Stefan looks and how good their sex was. Did you just blush, Stefan?
Uh, hello, sparks on the dance floor! Caroline challenges Stefan to have fun at Elena's impromptu party and suggests he grab a girl to dance with — so he picks her. Listen, sometimes the Stefan-and-Caroline chemistry can't be denied, and let's face it: those two both need to have some fun. Even Elena thinks so!
I'm happy to see Klaus back, and I have to be happy for the dude for finally getting some action (who knows how long it's been — centuries?!). He gets it on with Hayley, who's staying with him while he tries to get info out of her about Katherine. This informational interview is conducted by wining and dining her (which reminds me: hey, Klaus, I have some information about Katherine too).
After Elena almost hurts Caroline's mom, they get into a vampire girl fight in the forest. Elena has some choice words for Caroline, taunting her about her dirty thoughts about Klaus (tell us more!), among other things. Honestly, Caroline kind of deserves it for all the crap she talked about Elena's feelings for Damon at the beginning of the season.
Damon's preoccupied with finding Katherine and the cure this week, but I'm glad that he still finds time for Elena — and that they still have chemistry, despite the no-feelings thing. Interestingly, Elena tries to get him to admit that he likes her better bad. He doesn't answer, but he does have a plan: going to NYC. Road trip!
Caroline, still trying to get ahold of Tyler, finally hears from him via a letter he sent to Matt. At Tyler's house, she learns that he isn't coming home anytime soon, but he's invited Matt and Caroline to stay in his big mansion. Are Caroline and Matt going to live in the house? And stop being polite, and start getting real?
The Bad
Like I said, I'm happy Klaus finally got it on with someone, but I don't love that it's Hayley. She's more annoying than usual in this episode, swanning around Klaus's house boozing it up and judging his art. Why does Hayley get to get all that Klaus lovin'?
I'm also annoyed that the writers are still trying to make us care about Hayley's parentage. Stop trying to make this story line happen. It's not going to happen.
I liked that we didn't have to hear too much about

Silas

this week, save for a mention of him when the gang thinks he may be stealing all the blood reserves from the hospital. The only bad thing is that it sounds like we'll be hearing from him soon, and I'd rather he and this plot line just die.
The Bloody
Elena is impressively ferocious this week, feeding on an innocent motorist and a sweet cheerleader. I'm glad it looks like she'll stay this way a little while longer before going back to being the Elena who feels all the things.
What did you think of this week's episode?