The Vampire Diaries Recap "Crying Wolf"
The Vampire Diaries "Crying Wolf": The Good, the Bad, and the Bloody
I was hoping for some Valentine's Day action on The Vampire Diaries this week, but unfortunately, a romantic trip for Elena and Stefan goes awry when the pack of trouble-making werewolves comes calling. There's still a little sweetness for some characters though — we witness a kiss from a prospective couple that we've been waiting for!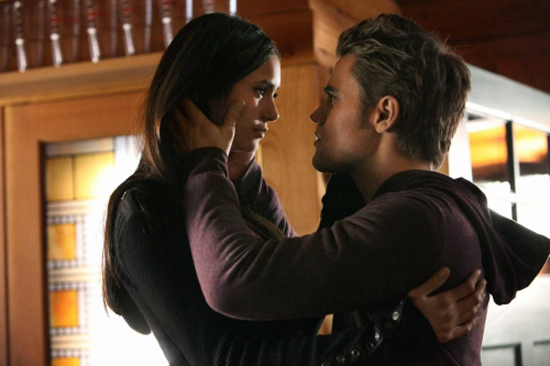 Original vampire Elijah surfaces in Mystic Falls to herald the coming showdown with Klaus, but most of the action is still werewolf-on-vampire this week. Are you ready to dissect the good, the bad, and the bloody? Get down to it when you
.
The Good
The werewolves are freaking out once they put together the pieces that Mason was assisting "that hot vampire chick Kathy" to break the sun and the moon curse. If they're the ones to break it, werewolves can turn at will — including never again, if they want. Once Tyler identifies "Kathy" as Elena, Tyler, Jules, and her wolf cronies take off after the vampires in a race to break the curse.
Stefan and Elena plan a romantic getaway to her family's lake house, wanting to escape the drama of John being back in town. The jaunt is less than idyllic — she's haunted by memories of her parents, and then they discover a secret hiding place full of weapons and Jonathan Gilbert's other journals. How creepy is that room, by the way? It looks like a serial killer's den.
I love that Caroline and Bonnie make the whole drugging-and-spelling-on-Luka thing into an opportunity to have girl talk about which boy Bonnie should date. Jeremy is bewitched by Bonnie (I couldn't resist), and though Luka probably likes Bonnie too, right now he's just good for information. Under a spell, he reveals that the reason he and his father are helping Elijah is because they want to kill Klaus too. Klaus has Luka's sister, and if they help Elijah kill Klaus, they'll get her back. One small problem: they can kill Klaus after the sacrifice, when he's vulnerable . . . but only after the sacrifice (AKA Elena's death). But enough about Luka and sacrifices — Jeremy and Bonnie get over themselves and make out! Congrats, you crazy kids.
The werewolves are on the prowl for the moonstone, and after they attack Damon and Alaric in the Salvatore home, they head to the lake house.

Brady

and Tyler subdue Stefan, and Brady goes after Elena in a cat-and-mouse game until Stefan stabs him. They're surprised to find Tyler there, insisting he didn't know what the wolves were going to do to her. Meanwhile, back at the Salvatore torture den, Elijah shows up, grabs the moonstone, snatches some hearts out of some werewolf chests like it ain't no thing, and then frees Damon.
I was a little scared for Alaric when he gets stabbed at Damon's, and even though he's OK because he's wearing the ring, I'm still nervous about his safety. His earlier exchange with John that ends with John threatening to get the ring that Isobel gave him back feels like it's foreshadowing Alaric's demise. Say it ain't so!
The Bad
The cheese-tastic moment of the week goes to Tyler, for finding Matt at the Mystic Grill and telling him to be good to Caroline. First, it's a lame speech no high school boy would ever give to another high school boy; second, I just want to shake him and say come on, fight for her! Don't just run away, wolfie.
I can't bring myself to worry about Elena sacrificing herself to keep everyone else safe, because we know she's going to survive the Klaus encounter. So watching her and Stefan argue about her becoming a martyr isn't compelling, it's just frustrating.
The Bloody
The torture device full of little wooden stakes in Damon's neck is just too much. As Stevie called it, it's "torture porn."
I'm not a fan of all the heart snatching that's been going down on this show. And even though it's still very gross, it's just so expected now. Get a new move.
With Tyler out of Mystic Falls for now, do you think we're taking a break from the werewolf storyline? And are you as ready as I am to finally meet the mysterious and sinister Klaus? Let's talk about that and what went on in this week's episode in the comments, and don't forget that you can participate in even more when you join the Hooked on Vampire Diaries group in the Buzz Community.
Photo courtesy of The CW