The Vampire Diaries Recap "The Dinner Party"
The Vampire Diaries "The Dinner Party": The Good, the Bad, and the Bloody
It's flashbacks and fancy parties on this week's episode of The Vampire Diaries. We travel back into Stefan's personal history and learn what he was like (read: very, very bad) before he became the "good" vampire he is today. In Mystic Falls, there's still no sign of Klaus, but the other Original baddie Elijah is invited to a very special dinner hosted by Damon, while Bonnie and Jeremy show up for a brief, devastating moment.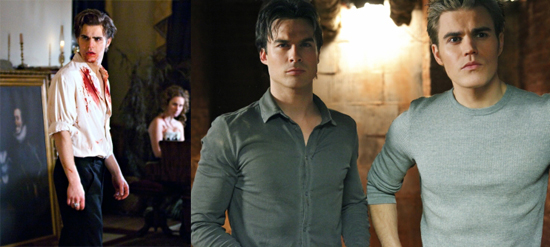 What seems like a pretty calm episode actually has plenty of surprising moments, so if you're ready to recap all the good, bad, and bloody of this week, then
.
The Good
Still on their weekend trip at the lake, Elena reads from Jonathan Gilbert's journal and discovers that Stefan killed members of her family. Stefan explains to Elena that he and Damon were angry at the founding families for what they had done to Katherine, and then Stefan picks up with his own flashback. As Stefan has bloody playtime with some nubile young things, we see Damon, then more responsible and virtuous, who criticizes Stefan and informs him that he's leaving. When Elena says he sounds like Damon, Stefan corrects her: "I was worse."
With Elijah still lurking around town, Damon's new compelled girlfriend suggests a dinner party. Damon joyfully agrees to host for the opportunity to kill Elijah. Later, Damon visits Katherine in the tomb, and finds out something interesting: if Elijah dies, Katherine will be stuck in the tomb forever. Desperate, she pleads with him and is tricked into confirming how Damon can kill an Original: with the dagger and white oak ash. Damon is ready to strike, but just before dinner, Elijah warns Damon that he'll kill him and the rest of the attendees if he makes a move.
Yay! During Stefan's monstrous stage, we reconnect with an old familiar face: Lexi. While feeding on the wounded soldiers of the Civil War, Stefan meets his old best friend. It's Lexi that fixes what had been missing in Stefan since he'd become a vampire: how important it is to love. Stefan uses this experience to explain to Elena why she should stop trying to be a martyr.
Elena finds Jonathan's notes on the Originals, which include instructions for killing them. It corroborates the facts that the white oak ash and dagger combo will kill an Original, but Jonathan reveals one pesky detail: only a human can use it, and if Damon or any vampire tries, it will kill them too. Elena and Stefan spring to their feet to thwart John's set-up, and reach Alaric, who warns Damon in time. While it seems that Damon just has to deal with frustration of letting Elijah live, Alaric surprises everyone and stabs Elijah with the dagger, ending him (the stupefied look on Damon's face is excellent). Have you been taking badass lessons, Alaric? Because they're working.
Elena's not exactly fast reading the details about how to kill an Original, and there's another technicality she and Stefan find out too late. The Original only stays dead if the dagger stays in place, which it hasn't, so . . . oops. Elijah, still living (sort of), makes a break for it, finds out where Elena is from Jonas, and then shows up to the lake house. She tries to re-negotiate her terms as Elijah waits outside, but he doesn't believe her when she threatens to stab herself and have Stefan save her and turn into a vampire (as Katherine did). Shoot, I was as shocked as Elijah when Elena actually does knife herself in the gut, and doubly shocked when she stabs Elijah, killing him once and for all.
Luka angrily confronts Bonnie about what happened with the spell, and when she plays dumb, he suspects she's lying. Bonnie pays a large price for having used him; on her cute non-date with Jeremy, Jonas crashes, demanding to know what Luka told her. Rather violently, he seizes her and uses a spell to remove her powers. I'm legitimately curious as to how she'll get her witch power back . . . unless she doesn't.
Katherine, you wily little minx. When Damon comes home from his wild night, he finds Katherine out of the tomb and in his shower (and with full smoky eye makeup on, but whatever). She had lied about being stuck in the tomb, and instead, the truth is that the compulsion of the Original wears off if he dies. Therefore, heeeere's Katherine.
The Bad
Tyler's gone because he's run off, so he has an excuse, but where's Caroline? I miss my favorite vampire.
Alaric removes his ring and gives it to John after Jenna dumps him for not being honest with her. To echo what I said last week, I'm so scared for him. Please don't die, Alaric.
The Bloody
Stefan's PYT bloodbath is quite a sight. It's weird enough seeing the goody two-shoes Salvatore brother acting like a monster, but it's quite another thing to see his crisp white shirt and pretty face mucked up with a plasma pattern.
How did you like this episode? Was it uncomfortable or kind of fun to see Stefan out of his nice-guy routine? And are you groaning or excited that Katherine is out of the tomb? Chime in with your thoughts and remember to join the Hooked on Vampire Diaries group in the Buzz Community to chat with other fans!
Photos courtesy of The CW