The Vampire Diaries Recap "Disturbing Behavior"
The Vampire Diaries "Disturbing Behavior": The Good, the Bad, and the Bloody
Maybe it was the absence of flashy '20s flashbacks, but I wasn't quite as excited by this week's episode of The Vampire Diaries. Stefan, Klaus, and Rebecca are still in Chicago, although it appears that their fun time in the Windy City is over. Back in Mystic Falls, Elena and Damon are forced to confront the fact that their attraction to each other is becoming more obvious to everyone around them, whether they're ready to act on it or not.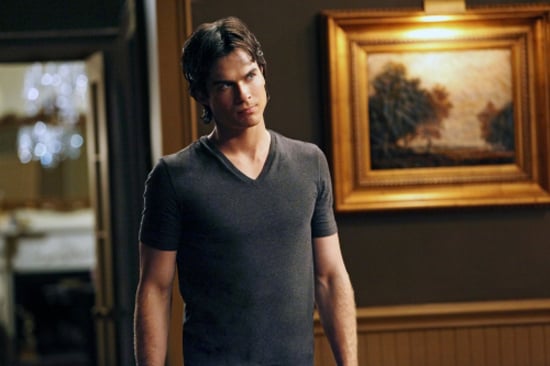 Caroline's little papa problem also comes to a head this week, as does Jeremy's ghost girlfriend situation, and he spends some weird quality time with Anna while Bonnie also comes back to town. Ready to recap the good, the bad, and the bloody? Just keep reading.
The Good
Katherine is in Chi-Town too, and she gets Stefan to admit that he's hiding the necklace somewhere to prevent Klaus from fixing his hybrid procreation problem. When witch Gloria tries to locate the necklace, it burns Elena's skin where it touches her. Gloria finds it and keeps the secret about Stefan knowing where it is, but when Stefan won't tell her the location, she uses her powers and tortures Stefan to extract its whereabouts. As she discovers that doppelganger Elena is still alive, unraveling Klaus's hybrid problem, Katherine comes to his rescue and kills Gloria. Stefan reveals to her that Klaus and his sister were running from a vampire hunter, but when Katherine gets excited about a plan, he refuses to have her as a partner in crime.
Ghost Anna drops in on Jeremy and tells him she'd been trying to get him to hear her for days. But Jeremy's real (alive) girlfriend, Bonnie, is back. Jeremy's dynamic with Anna is oddly sweet and flirty, but she has a more important message: ghost Vicki's bad news, she just doesn't know why. She also senses darkness when Bonnie is researching the necklace, and it causes a mild house fire. Jeremy asks Anna to stay away and banishes her from his mind, and then comes clean to Bonnie about the visions he's been having.
Sheriff Forbes uses Damon to help her with Caroline's crazy vampire-denying father, Bill, so he compels him to forget everything and leave town. It doesn't work (I guess being that crazy makes you resistant to vampire power), and it's clear that Bill has the council under his thumb. Damon takes matters into his own hands and attacks Bill, but Caroline rushes to her father's side. We get the best, craziest Caroline and Damon fight ("I'm stronger!" "I'm angrier!"), and when Caroline wins, he has a different kind of fight with Elena. She tells him she doesn't want him to act like such a monster, but Damon yells at Elena that she can't make him Stefan. You only yell at each other if you really care!
Great news for Alaric fans: he asks to join the council as the representative of the Gilberts, since no one can vouch for them anymore. I guess we finally know how Alaric is going to play a role in this season of the show, and I'm definitely relieved.
I love that Caroline is still gossipy Caroline sometimes, and she asks what's going on with Elena and Damon. Elena, of course plays dumb, and Alaric also says something to Damon about staying away from Elena (or "take a beat" as "Ric" says). Yeah, he pays for that when he tries to get in Damon's way when he wants to go after Bill, but Damon ruthlessly incapacitates him. After the fight at the barbecue, Caroline still needles Elena about Damon. She tries to get Elena to admit that she's attracted to Damon, but Elena worries what it says about her if she does — which is as good as admitting that she wants his body.
Rebecca indulges her undying love for Stefan by grabbing him for a kiss, but she says she can tell from it that he's lying when he says he could love someone else the same way he loved Elena. She deduces more than that, too, and tells Klaus that Stefan had been asking about Michael and isn't one of them. Klaus lunges at Stefan, and the next thing he knows, Stefan has been brought to a strange place. Or maybe not so strange: they're back in Mystic Falls.
Oh, that devious little Katherine. She tags along to Mystic Falls, and posing as Elena, she gets the necklace back from Bonnie easily. At least she's smart enough to know she has to get out of there quick, but she grabs one piece of luggage before taking off: Damon.
The Bad
I love any focus on Caroline, but I'm so glad her dad has left town. I wasn't into his storyline at all, and it seemed like the writers were futilely trying to humanize him a little, like when he's grateful to Caroline for helping him. He's gone for now, but his final words about Caroline never being OK as a vampire again tell me we haven't seen the last of him.
Another thing I'm not caring about as much is Jeremy and Bonnie as a happy couple. Maybe it's because Bonnie has been absent for so long, or because his tension with Anna this week was so much more intriguing (and she's a ghost!). I'm hoping Jeremy lets Anna back in, because his scenes with her are far more interesting with her than they are with Bonnie.
The Bloody
There's something so creepy about Stefan, Klaus, and Rebecca each feasting on a human girl in the same room. Seems too personal.
I can't wait to see what happens with Stefan and Klaus back in Mystic Falls, and I want to know where Damon and Katherine are going. Any guesses? What did you guys think of this week's episode?
Photo courtesy of The CW