The Vampire Diaries Recap "Down the Rabbit Hole"
The Vampire Diaries "Down the Rabbit Hole": The Good, the Bad, and the Bloody
This week's Vampire Diaries picks up after last week's cliffhanger, out in the wild as most of the gang heads to find evil immortal Silas and the vampire cure he's buried with. It's a lot more action-packed this week — and consequential — as one major villain resurfaces, one character says goodbye to Mystic Falls, and one of our main group appears to be dead.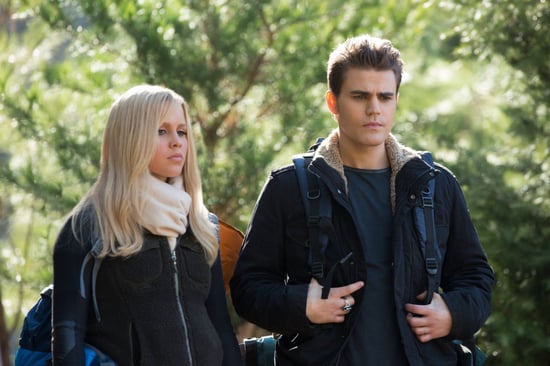 Anyone missing Mystic Falls as much as I do? Though a lot has just happened, I'm anxious to get back to town and find out what everything that happens this week means for everyone. Let's get to that and everything else in the good, the bad, and the bloody after the jump.
The Good
Damon is a prisoner of one of the five hunters, the Scottish Vaughn, and he shares that he's there because his hunter's mark had suddenly, recently completed for no reason. He wants to kill Silas, and he explains that the cure has to go to Silas so he can be killed.
Elena has Caroline find Klaus's sword, who can't stop them because he's still trapped at Elena's. Caroline and Tyler discover the handle is a "cryptex" that can decode Jeremy's tattoo, but Klaus tells them it's in Aramaic — which, of course, he speaks. Surprisingly, he helps, telling them it means they need a witch and a hunter, but more importantly: there is only one dose of the cure.
Caroline emails the instructions to the group in the woods, and when Rebekah wonders why Klaus is helping, he's kind and tells her he wants her to have what she wants — but that she better get to the cure first since there's only one shot. When Rebekah tells Stefan the disappointing news, she realizes he will give it to Elena no matter what and takes him out. But when Elena finds out, she says she doesn't deserve the cure over anyone else, and must accept her life now.
Back in Mystic Falls, Caroline begs Klaus to let Tyler live, and during their bargain, Klaus gets her to admit that she wouldn't take the cure because she likes who she is now. They're similar, he says, and Caroline counters that if they're so similar, he should show Tyler mercy. Klaus agrees, if Tyler leaves town immediately and hides. His mercy doesn't extend too far — it's just a head start, because Klaus still intends to kill Tyler.
In a touching scene, Caroline and Tyler say their goodbyes to each other, and as Caroline cries, Tyler promises they'll find each other again. If they don't, Caroline wants to hear he'll have a happy life without her. Even though he's trying to soothe her, it still feels awkward to hear him saying he'll forget all about her. So . . . since they're pretty much done, she's free to make out with Klaus, right? I think he deserves it after telling Caroline he showed kindness because "it was all for you."
Down in the well, I like new, tough Bonnie's attitude when she leaves Shane and his broken leg behind. She and Jeremy make it through the I-See-Dead-People well, getting past Grams when she tempts Bonnie to bring Silas back and Jeremy makes her realize it's just a hallucination from Silas. They finally make it to their destination, and Bonnie and Jeremy find the fossilized dose of the cure and struggle to get it out of the stone. Bonnie realizes the only way they can unfreeze the cure and Silas is to feed him their blood and wake him up. As they scramble to figure out another way, Vaughn shows up, stabs Bonnie, and concurs that waking Silas is the only way to go.
After incapacitating Rebekah and Damon, Vaughn heads to Silas, and he and Jeremy have a hunter vs. hunter fight until Elena shows up. But it's not Elena — it's Katherine. She bites Jeremy, then feeds him to Silas, who releases the cure. Katherine makes off with it, and Jeremy drops next to Silas's grave, seemingly dead. Of all the things I thought would happen with the cure, I did not expect Katherine to swoop in and snag it. Is she going to take it? Sell it to the highest bidder?
The Bad
I feel a little irritated that we got so many details about Silas and the cure from Shane — not to mention the mystery of the first few episodes of the season — and it feels like not a lot of it mattered. Oh well, we're literally out of the woods now, right?
The Bloody
The grossest part of this week's episode is a tie: first, there are the scary toys of the hunter, like that weird star-shaped wood dart that massacres Rebekah's torso, and then there's Jeremy getting slurped on by a fossilized corpse. You tell me what's grosser.
What did you think of this week's episode? Do you think Jeremy is really dead?